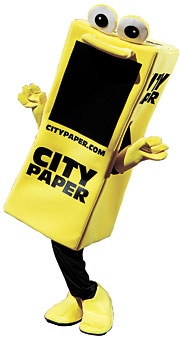 I was going to write an extended obituary for City Paper, Baltimore's alternative weekly, following its sale to frenemy Baltimore Sun this week, but Gawker editor and former CP staff writer Tom Scocca (who've we've mentioned here before) beat me to it. Scocca hit all the eloquent notes concerning the now inevitable demise of our alt-weekly, and opened up the conversation further, writing what I consider the quintessential paragraph on the real reason for all this newsy decline:
Money! The first myth or illusion that the free alternatives existed to puncture was that newspapering was a matter of selling articles to readers. The reputable dailies, with their coin-boxes and subscription offices, were designed to make it look as if that were the transaction. But the money lay in selling readers to advertisers. The cover price was a fiction, useful inasmuch as it helped guarantee that the people who read the ads weren't broke, and that they had some emotional investment in reading the paper.
So, I will keep my eulogy brief. I first started reading CP during its peak in the 1990s. Few publications have influenced me more. I also read the Sun. Both were important to me and to the city politic, but CP understood Baltimore's soul far better. It traveled where its white-collar brother dared not tread (save a David Simon or so), into crack dens and decrepit political holes and back into the city's weirdo past. They also knew exactly when to tell a politician or a big business or the Sun itself to fuck off with their nonsense. In a city with as many issues as Baltimore has, there was (and still is) a desperate need for an editorial voice to scream directly at the madness, and City Paper performed that duty admirably every week.
When I left Baltimore I learned that CP's radical editorial voice was unique even amongst alt-weeklies. New Orleans' Gambit Weekly, which I read regularly in college, is fine in certain aspects, but its political viewpoint is milquetoast and blue dog. It's the wrong tone for a city that desperately needs loud editorial investigation. Most others are alternative in name only, existing almost solely to suck up untapped ad revenue from music clubs, strip joints and person-to-person ads that are quickly finding a better home online. City Paper stood ahead of the bunch.
There are few better ways to spend a lazy afternoon in Baltimore than to sit in a local bar or coffee shop, drink a beverage of your choice and read the City Paper cover to cover, hopefully with a pen in hand to take notes in the margins. In a perfect world, CP will keep its angry tone, while new revenues are pumped into its editorial team and investigative reach. That's an idealist's viewpoint, though, and if City Paper's editors taught me anything, it was to always scrutinize the words and decisions of the powerful. How, exactly, do you tell the Man to fuck off when you are owned by him?
If it gave us nothing else (and it gave us a shit ton), City Paper provided Charm City with this beautiful mantra, published as the introduction of its 2002 Best of Baltimore issue. I would argue to the end that we make this entire statement our motto. RIP CP.
Charm City. The Land of Pleasant Living. The Greatest City in America. A place that asks us to believe.
Lies. All lies.
Here in the land north of the park of Blob, east of Oella, west of the hinterlands of Chesaco, and south of Ebenezer, the followers of Lord Baltimore live in anything but their Lord's grace.
Charm? A simulacrum of a mostly white Baltimore gone by and trumped up by kitsch-loving, mostly white newspaper columnists, most of whom didn't grow up here. Pleasant living? Save that shit for wistful memories of the clean, crab-heavy, skipjack-era Chesapeake. (Besides, they don't brew Natty Boh here no more, hon.)
The Greatest City in America? Well, that has possibilities–but not because of the municipal boosterism that spawned Mayor O'Muscles' click-your-heels-three-times exercise in wishful thinking.
What, then, makes us so great, possibly even The Best?
We're tough, asshole, that's what.
A Tour Through My Favorite City Paper Articles
ONE MAN's JOURNEY INTO THE HEART OF OTAKON
Sexy warriors, euphoric raves, and Bronies converge for Baltimore's craziest party of the year
THE OLD MASTER
The first black American boxing champion has been largely forgotten, especially in his native Baltimore
BLACK-BOOKED
The Black Guerrilla Family prison gang sought legitimacy, but got indictments
(City Paper gave BGF coverage priority long before the 2013 City Corrections ruckus in 2012)
OOH, SCARY!
Halloween Masks IV
UNEASY STREET
Can Old Hampden Coexist With The New Avenue?
COUNCILMANIC DEPRESSION
An Illustrated Tour Through the Days and Nights of the Baltimore City Council.
(City Paper provided a home for the city's illustrators. This is a beautiful use of local writer and artist Tom Chalkley, and includes a well endowed cameo of my Uncle Jay.)
BETWEEN THE LINES
Cal Ripken wasn't great because he played all those games; he played all those games because he was great.
(Scocca wrote a sports column called 8 Upper and wrote frequently on city sports.)
MURDER ONE
A Baltimore Killing Behind the Numbers
LIFE AND BASKETBALL
The Redemption of Woody Sauldsberry
CRAZY DIAMONDS
Wham City Doesn't Want To Take Over The World–But It Just Might Anyway
GSW*
The Cost of Street Violence in Baltimore is Written on the Body
I, GOLDBERG
My Wrestler, My Surname, Myself
1812 OVERTURES
The New Battle of Baltimore Is Reminding Americans About the City's Finest Star-Spangled Hour
OLD WORLD
Remembering the Glory Days of Deli on Corned Beef Row
VINCENT WILLIAMS: New Orleans 1/ New Orleans 2 
SOWEBO BLUES
What Went Wrong—and What Might Be Going Right—in Baltimore's Would-Be Arts Neighborhood
CHARLES T. NEWTON JR.
1928-2003
BIRD IS THE WORD
At Picnic Time, There's Something About Maryland Chicken