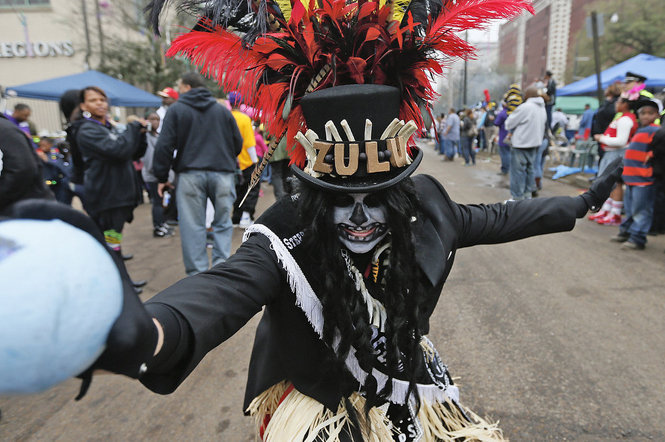 The Japanese girl didn't speak English, but I kept talking to her, hoping the time would pass. We were sitting at a picnic table inside Igor's, a bar located on St. Charles Avenue in New Orleans. I drank there often. They serve strong Bloody Mary's. In the back near the pool table, the owners installed a bank of electric washers and driers so locals can drink and do laundry. The bar is also a half step from Jackson Street, where the Zulu Social Aid and Pleasure Club kicks off Mardi Gras morning every year.
I didn't know the Japanese girl's name. She was friends with Joe, my college roommate Briscoe's buddy. The pair were part of our night's entourage, but it was 4 a.m., and Joe disappeared at some point. He was a cadet in the university's Reserved Officers' Training Corps. Joe signed up for what he thought would be a quick four years serving in Germany or South Korea. It was 2003 now, and enlistees were all headed for hard duty in Afghanistan or Iraq instead. I remember, after 9/11, ROTCs hitting New Orleans nightlife with an unsettling drunken energy.
The girl was a foreign exchange student at Tulane in a previous semester, and she and Joe must have been an item at one point. They would have been an odd couple. Joe was six-foot tall and hairy, with the beefy build you'd expect from an Illinois farm boy. She was petite with dark hair, dressed in black clothes. From talking with Joe earlier I gathered she showed up a few weeks before to see him and celebrate Mardi Gras.
I shook my head and drank my beer, exhausted at this point. Briscoe, a ROTC from Arkansas, invited me out for Lundi Gras, the Monday evening before Fat Tuesday. We vowed to stay up all night and bar hop, before decamping at Igor's for the Zulu parade's 8 a.m. kick off Mardi Gras day. We drank uptown in the college bars on Maple Street. The crowds dwindled, so we moved to the Riverbend, where the Mississippi curls around the Western edge of the city. By 3 a.m. we had made it east down Magazine Street. Briscoe smashed is car door on a pole at some point but we kept moving, making our way to St. Charles Avenue. A platoon of ROTCs followed us. As the night ground on guys peeled off here and there, following impromptu alcoholic ambitions. We lost the rest when they stormed into the night to find a woman pickpocket. I was drunk but remembered the incident. She'd used a direct method, grabbing the victim's crotch and saying 'hey baby!' while we all laughed. He didn't realize his wallet was gone until Igor's bouncer asked for ID.
As night turned into a gray predawn, my Japanese friend left to meet up with a few fellow exchange students still living in New Orleans. Briscoe and I ate spicy Cajun cheeseburgers and drank Bloody Mary's for breakfast. I'd eaten Igor's cheeseburgers for breakfast on other days, sitting and listening to the St. Charles streetcars rolling by out front. The city parked the cars for Mardi Gras today though. Instead, tents covered the neutral ground. Early bird families staked out their spots for the parade.
People emerged from their tents and the Lower Garden District awoke. Briscoe and I shouldered our way among the growing crowd to the street outside. Though Zulu was the first official parade, unofficial walking krewes were already rolling by. Clarinetist Pete Fountain led his half-fast walking club down St Charles. Members wore crimson feather headdresses and leather moccasins. The crowd continued to form. New Orleans police zoomed up and down St. Charles on Harley Davidsons, flashing their emergency lights. Drunk Tulane students stumbled up to the curb. They pushed alongside the African-American families rolling in from Central City
The weight of the evening started to bare down on me, but the night wasn't going to catch me yet. I had help. Trumpets. Trombones. Bumping bass lines. Brass, spilling out from Jackson Street. Saint Augustine high school's Marching 100 turned the corner onto St. Charles and saved me. Sun reflected off their gold spartan helmets and purple uniforms and brass horns, shining a welcoming burn over us. Wake up. It's Mardi Gras.
Shapes and images, colors and brightness. They ignite a tired body and help push through exhaustion. Mayor Ray Nagin led the parade. He wore a gray tuxedo with tails and a top hat, and rode atop a horse, police horses flanked on either side. King Zulu and Queen Zulu sat high in their thrones. They were radiant, and wore white royal clothes and towering feather plumage. Young black men in tuxedos stood guard around their royalty. Small children in baptismal gowns waved with absent joy at the people below. Behind them, the Zulu Marching Warriors bounced up the street. They wore grass skirts and afro wigs. Two-story floats rolled on, featuring the Big Chief, the Historian and other Zulu figures. Riders rained plastic beads and trinkets on us and shouted for fresh cans of beer.
"Zulu!" Briscoe and I shouted. "Zulu, throw us something! Throw us a spear. Throw us a bead!"
The Zulus were benevolent, and showered us with beads. We picked up spears. I nabbed a stuffed Zulu doll. Briscoe earned a coconut painted gold and sprinkled in glitter, the Zulu's featured prize.
Mid-morning arrived. Briscoe's eyes were red. My head dragged. We grabbed our Zulu horde and pushed through the street back into Igor's. It was dark in there. Comforting. The 30 hours fell hard on us. I sat down on a wooden picnic bench and put my head down. I could still hear the trumpets and trombones as they called out to the city, waking New Orleans up for the holiday.
Those horns were for other people now, for all those bright and shiny folk down the road. The night, which we ran so hard and so long from, finally caught us. It catches everyone.