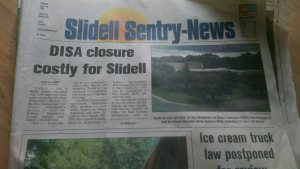 (part 2 in a three-part series. Read part one here.)
"We all know that something is eternal. And it ain't houses and it ain't names, and it ain't earth, and it ain't even the stars . . . everybody knows in their bones that something is eternal, and that something has to do with human beings." – Thorton Wilder, Our Town
A year in the Slidell Sentry-News headlines.
Firemen Collecting Goods For Soldiers
Stations will accept non-perishables for the U.S. Military
July 21, 2004: This was my earliest byline I could find in the stack of Sentry-News I saved, and that made it through Katrina. The Iraq War was more real in Slidell than in any other place I lived in. Many townspeople belonged to the active military or the Louisiana Guard, and had been called up. In that year, at least one St. Tammany Parish resident died fighting overseas, and another local man survived a Blackhawk helicopter crash. Many residents also worked at Textron, a local plant that built armored security and personnel vehicles.
In the July 25 edition, I wrote an article on Platoon Sergeant Paul Kavanaugh, a Slidell resident who earned a bronze star after subduing a gas station riot during his 11-month patrol in Bayji, a city on the southern tip of the Sunni triangle. He survived 140 degree days, 110 degree nights, bullets, old munitions and his sanity, all while his family were stuck back in Ft. Hood.
"It's extremely difficult when you have a family at home. I would think 'good lord what if something happened to me.' That's the hardest part. But you have a mission to do, you focus on that, and not anything else. Otherwise, it's really easy to lose it."
Paul made it through his tour of duty.
Science Whiz
Salmen High's Jarrel Longino train early for a career in medicine
July 26, 2004: Jarrel Longino was one of 53 high school students that year to participate in the Kentucky Appalachian Science Enrichment Program, a five-week camp that helps students from underserved minority groups, and who are strong in science and mathematics, hone their skills in a university setting. Longino made it through Katrina, and currently works in Atlanta.
Man's Best Friend
When heart attack nearly claims Slidell man's life, First Chief's Dog, Mulligan, comes to the rescue
Aug. 1, 20o4. Slidell resident Michael Watson, who survived a heart attack after his neighbor's dog, Mulligan,ran to the scene. Watson's neighbor's happened to be St. Tammany First District First Chief Larry Hess, one of my favorite municipal sources. Larry was a bureaucrat and a budget hound of the highest order. He's one of the few guys I talked to after Katrina, on my one trip back to town. He retired in 2013 to work in the private sector.
Hurricane Watch
National Weather Service readies for busy storm season
Aug. 11, 2004: Slidell is home to a National Weather Service regional radar office. In early August 2014 I toured the facility to write an article that was part of a summer hurricane package. At the time, they were monitoring two storms in the Atlantic, Bonnie and Charley. Both those storms hit Florida, with Charley causing 13.5 billion in damage.
For St. Tammany parish, the biggest concern for NWS officials was storm surge flooding along Lake Pontchartrain and area river banks. "We saw major storm surge flooding along the lake side from Mandeville to Slidell during Hurricane Isadore and Tropical Storm Bill," NWS Warning Coordination Meterologist Franke Revitte said.
A year later, the Slidell NWS office would issue the now famous Aug. 28, 2005 Bulletin on Hurricane Katrina, predicting "Most of the area will be uninhabitable for weeks…maybe longer."
Praline Lady
Local businesswoman's come a long way from Promised Land to Confection Queen
Aug 12, 2004: Emma Giron was one of my favorite local profiles. She grew up in Plaquemines Parish, in a town called Promised Land. Her father was an alligator hunter, and her mother a farmhand. After 30 years working in elder care, and as a singer on the side, she opened up a praline candy shop off Old Spanish Trail in Olde Slidell. A resident of St. Bernard Parish, she lost both her home and her shop to Katrina. Apparently, after a year in Texas she received help from a Lutheran charity, and was able to move back to the region. She still has her shop in Slidell, and still sings locally.
"My candies are different than any praline there ever was. That's because Emma makes them."
A Voice for Victims
75-Year Old Elise Bazer has known her share of abuse, but after a man climbed in her window and raped her, she's speaking out
Aug, 29, 2004: Lifestyle editor Betsy Swenson wrote a harrowing feature on Mrs. Bazer, a rape victim who told her story in order to help St. Tammany Parish Coroner Dr. Peter Gavin raise funds for a 24-hour hotline service for victims. Post-Katrina, Galvan was charged by both the Louisiana and federal governments with conspiracy to commit theft of property from a municipal institution receiving federal funds. He pleaded guilty, and is currently serving three years in prison.
Galvan wasn't the only St. Tammany Parish politician I covered to fall once the federal government settled in Louisiana following Katrina. Parish Councilman Joe Impastato, who when I was there seemed a shoo-in as a future Parish President, pleaded guilty and served an 18 month prison term for soliciting and receiving kickbacks for a hurricane debris-disposal contract. Earlier this year, longtime parish District Attorney Walter Reed was indicted by a grand jury on corruption charges. Parish Assessor Patricia Schwartz Core, who I spent countless phone conversations with covering the area's rising assessments, came under scrutiny in 2011 for her office's spending issues. She lost an election that year, and in 2015, the FBI announced they were investigating her handling of certain property assessments during her reign.
As Ivan Nears, Residents Consider Clean-Up
Locals advised to use caution in storm's aftermath
Sept. 15, 2004: Ivan topped out as a Category 5, but missed Louisiana, making landfall near Pensacola, Fla., before moving up the East Coast. The storm caused $13 billion in damage, mostly in the Florida panhandle. My girlfriend and I evacuated to Little Rock, Ark. for two days before heading back to New Orleans. Her father's condo in Destin, Fla., a popular second home location for New Orleanians, was totaled in the storm. Slidell and the parish were fine.
Pastor, Trucking Company Team Up to Help Gulf Coast
Oct. 3, 2004: Another favorite citizen. Prophetess Katherine Javery-Bacon was the first person I ever met with that title. Post-Ivan, God had talked to her, and told her to fill up a flatbed with goods to send to Ivan victims in Florida. "I sat and watched with dread the fury of the Hurricane," said Javery-Bacon. "It was especially horrible because I know it could have hit us."
The Prophetess, thankfully, made it through Katrina.
Body Found In Freezer
Maintenance man stumbles across wrapped body inside an abandoned freezer behind a Slidell Apartment Complex
Oct. 22, 2004: Caught my first body. I was pissed, though, heading into the story, since we missed a phone call from a neighbor who found the freezer before police had arrived to investigate the scene. Instead, we had to work with parish deputies. The body was wrapped in a rug, then thrown in the freezer and dumped behind the complex the night before. A day later, parish deputies arrested a sister and brother duo. Apparently she murdered her abusive husband, and then called her brother, who helped clean up the mess. Except, when they wrapped up the body in the rug, they also wrapped up a piece of mail with their address on it. Arrests were made within 24 hours of  the body's discovery.
Lamz Narrowly Wins City Court Judge Seat
Nov. 3, 2004: On the night that George W. Bush won his second term, the news team stayed up and beat the Times Picayune on the Slidell City Court judgeship story. Attorneys Jim Lamz and John Wells ran against each other in a vicious campaign, filled with accusations and lawsuits. Wells actually won the live election that evening, but Lamz took the final lead once absentee ballots were counted, winning by 183 votes. More lawsuits followed the election. Our coverage of the Lamz-Wells saga earned the Slidell-Sentry News team a first place award from the Louisiana Press Association that year. We also won Gold Status as the top paper in our size and publication category.
Movie-Goers Get An Eyeful When Nude Man Is Arrested
Nov.9, 2004: "When police arrived, the suspect, Shawn G, Boylan, was allegedly in the process of putting his clothes back on. He reportedly explained his behavior saying that it was his hobby to take pictures of himself at different locations, and that he did not take the nudes where anyone could see him. Boyland apparently didn't not realize the security officers were watching him on on camera."
This was another great story pitched from a press release by Slidell Police Public Information Officer Capt. Rob Callahan, who routinely spun gold out of the daily crime harvest. Cops hate talking to the press, but Callahan loved a good story, and always wrote his press releases to both inform, and to entertain. When Katrina hit, Callahan served as the liaison to CNN and other national news organizations. Sadly, he died in 2007 from complications following a knee surgery.
Quiet Hero
Slidell man barnstorms his way into World War II after heartbreaking loss
Nov. 11, 2004: Ed Farley was a perfect subject for the annual Veteran's Day feature. An Alabama native, Farley learned to fly as a kid working for an old WWI barnstormer. Later, his brother Jack, a navy man working on the U.S.S. California, was killed during the Pearl Harbor bombing. At 27, Ed, too old to volunteer for combat missions, instead flew military supplies from the American West Coast to the South Pacific. Later, when the War Effort needed his skills, Farley made 37 bombing runs, targeting Japanese oil refineries, air bases and warships. Ed was 89 when we interviewed him.
Neighbors Saw Signs of Dementia
Dec. 29, 2004: St. Tammany had an issue with animal hoarders, at least when I was there. Sarah and Leah Suckosh, a mother-daughter duo, were placed into protective services after deputies found a sick horse on their property. "Animal Services discovered 12 dogs, 27 cats, 10 chickens, four ducks, four pigeons and one rabbit on the property. Inside the small shack, built by CLECO volunteers earlier this year, three inches of human and animal feces covered the floor. Also, some animals cages in the house were filled with up to 50 pounds of fecal matter, officials said."
Trio Arrested After Deputies Discover Meth Lab
Jan.4, 2005: Oh, St. Tammany…
Lawmakers Urge Passage of FEMA Bill
April 9, 2005: Occasionally House Rep. Bobby Jindal and Sen. David Vitter would swing through St. Tammany to push specific agenda. On this particular day, they were trying to fasttrack D.C. legislation to avoid federal flood insurance price hikes. I winged a few questions their way, and even chatted with Jindal about the insanity of Washington, D.C. real estate prices. Jindal has since served two terms as Louisiana governor, and is in a quixotic campaign for president. Vitter is the top candidate to follow Jindal as the state's next governor.
Religious Conservatives Target Gay-Friendly Children's Books
June 14, 2005: Couldn't find my version of this story, but I'd be remiss if I didn't mention State Rep. A.G. Crowe, one of many Crowes who lived in St. Tammany. A little mind-blowing if you're an Elmore Leonard fan, I know. Crowe built his voting block on cultural issues. I once covered a rally that he led, featuring the famous Alabama Ten Commandments statue, which was on a nationwide tour at the time. He also pushed to mitigate the access of a gay-friendly children's book called 'King & King,' at the local library.
"When a book of a very bizarre nature, a very offensive nature, is found in a library in an area that would be considered very conservative, this tends to raise some eyebrows," Crowe told ABC News. "It certainly goes against our family values that we so treasure here in Louisiana."
This was popular conservative rhetoric in the mid-'00s, as it helped Bush win his second presidential term. Ten years later, same-sex marriage is now law in all 50 states. Crowe, meanwhile, won a state senate seat in 2007, which he recently abdicated to focus on his copy and file business.
All Eyes Are On Hurricane Dennis
July 9, 2005: Our entire front page was focused on preparation for Dennis, which, at its peak, was a Category 4 storm. It hit Cuba full force, then crushed large swaths of Florida before turning into the Gulf Coast. The entire parish was on standby, and a new contraflow traffic plan was ready to be implemented, with all interstate lanes switched to flow north out of New Orleans. By the time it hit New Orleans, Dennis was a weak Category 1, dropping quickly to Tropical Storm status. I remember standing on my friend Mike's porch in Mid-City, watching electric boxes explode around the Big East. It was beautiful. Otherwise, New Orleans, and Slidell, came through relatively clean.
Rx For Abuse
Have We Seen the End of Pain Pill Mills?
July 31, 2005: My last big published feature. A group of shady doctors had set up pill mill clinics in St. Tammany and in other regional locations. For a cheap price, they shelled out large volumes of Xanax, Lortab and Soma. Many of their customers would then sell the pills for twice as much back in their small town or trailer park. St. Tammany Sheriff's officials eventually led a raid and shut down the local clinic.
A little over three weeks later, the Slidell Sentry-News was all but dead. The office drowned in eight feet of storm surge. The archives, I assume, were washed away, the historic record of thousands claimed by Lake Pontchartrain, and it's people scattered, possibly forever.