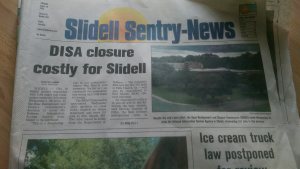 (Part one in a three-part series on the 10th anniversary of Hurricane Katrina)
I heard they cleaned up that wreck outside Slidell
just before the dawn
I heard five people got murdered
by a drunk woman talking on her cellphone
Grayson Capps
There's nothing particularly special about the Aug. 26, 2005 edition of the Slidell Sentry-News. I did write two front-page articles, including the above the fold headliner.
DISA Closure Costly for Slidell
SLIDELL- city of Slidell leaders responded with both anger and resignation yesterday following Wednesday's decision by the Base Realignment and Closure Commission's decision to move the Defense Information System Agency from Slidell to the Northeast.
"This is a devastating loss to our community," Mayor Ben Morris said. "As far as I am concerned the assessment was wrong and I still think it's wrong."
The BRAC Commission announced Wednesday their decision to close DISA, located on Gause Boulevard, and move 151 jobs to Fort Meade, Md….An expected $10 million in payroll will be lost following the base closure, said Morris…
That week, I interviewed mayor Morris in his newly renovated office in downtown Slidell. Morris was a small, rough and tumble man, a former DEA agent turned local politician. He had wore thick drugstore glasses, and his hair and mustache were salt-and-pepper gray. While we talked, he toured me around the updated facilities, while shouting didactic quotes for the article. Usually business relocation stories are dry ordeals, but I had a surprise personal connection to this one, so I was interested. My grandmother lived next to Forte Meade, and my family's cemetery is located there (one of the few concessions my grandmother's people received after the government commandeered the farm back in WWI). I spent that Thursday afternoon writing the article to meet 6 p.m. deadline.
Friday would be my last work day at the Sentry-News. Two weeks before I had put in my notice in order to take an assistant editor position with Tulane University's publications department. Though I enjoyed my time in Slidell, and it had been a fantastic swim through the deep end of journalism, by that August I was ready to move on to a new challenge.
The rest of the front page that day was typical of Slidell. Four Arrested After Armed Robbery. Ice Cream Truck Law Postponed for Review. Bayou Jam Concerts Return to Heritage Park. We ran just one Associated Press article, on page three, a source of small pride in the newsroom as we always wanted to produce original content.
Hurricane Katrina Bares Down on Florida
FORT LAUDERDALE, Fla. (AP) — Katrina strengthened into a hurricane Thursday, dumping steady rains, kicking up the surf and blowing gusty winds ashore as it chugged toward an overnight landfall on the state's densely populated southeast coast.
Katrina's maximum sustained wind speeds increased from 50 to 75 mph on Thursday, making it a weak Category 1 storm, said hurricane specialist Lixion Avila with the National Hurricane Center in Miami. It is expected to make landfall later Thursday or early Friday…
The storm's path appeared centered on the Miami-Fort Lauderdale area, but forecasters warned that the storm could swing north or south before landfall. If the forecast holds, Katrina would be the second hurricane to hit the state this year —Dennis hit the Panhandle last month — and the sixth since Aug. 13, 2004…
————————————–
After graduating from Tulane University in the spring of 2004, I decided to stay in New Orleans. My girlfriend then was from the city, and I loved the New Orleans so damned much that I didn't want to leave after college. I was the sports editor for my university newspaper, the Hullabaloo, so I thought, why not try and find a paper job? At the end of July, after a long search, I applied and was accepted for open staff writer position at the Sentry-News. The gig paid $300 a week, but it was a daily, rare among suburban community newspapers, and I needed the experience.
Nicknamed the Camellia City (what small Southern town isn't?), Slidell sits just east of New Orleans, at the confluence of Interstate 10, Interstate 12, Interstate 59, and where Lake Pontchartrain meets Lake Borgne. As a crossroads town, Slidell features a perfect mix of rural absurdity and urban hedonism. One day, a municipal wildlife expert is cranking a 14-foot alligator out of the Slidell drainage canal with his pickup, while people watch and eat ice cream from a nearby truck. The next day, police are confiscating 200 pounds of marijuana from a local truck driver. The world never stayed long in Slidell, but it definitely passed through on a daily basis, which may reporting there fun.
I spent that Friday writing my final article for the Sentry-News, a Sunday cover feature about potential waterfront development in Slidell's future. A few weeks earlier I'd stumbled over a website of a local developer who was attempting to build a series of high rise luxury condominiums and marinas on reclaimed marshland on Lake Ponchartrain. I talked to the developers, and interviewed local officials about the potential impact on infrastructure and public services. It was a nice piece to go out on.
As a goodbye, staff always ate lunch at Los Tres Amigos Mexican Restaurant, located next to the Sentry-News offices. I was going to miss the team. Shell Armstrong, the appointed editor in chief, had hired me a year ago. She was a tough editor, and working with here had been rewarding in the year. Good friends Aileen Ruli McCready, a native New Orleanian, and Matt Penix, a son of Cincinnati, were the news bullpen veterans. Aileen covered Slidell civic and political news, Matt covered courts and schools, and I followed St. Tammany Parish government politics. Betsy Swenson, the St. Tammany Parish native, was our lifestyle editor. Sports editor David Purdum and I were new roommates, signing a lease on a Garden District two-bedroom house a month ago.
We ate, enjoyed our final time together as a team. I spent the afternoon packing my desk. At shift's end, I drove home to New Orleans and met my friends at The Club-Ms. Mae's, a famous dive bar at the corner of Napoleon and Magazine. We celebrated, and drank too much hard liquor. I wasn't the only one who's life was changing at the time. My buddy Mike was moving back to Tennessee that Saturday, and my friend Whitney and his wife Lucy were headed to Dallas soon after. My friends were leaving rapidly, but I still had New Orleans. That night the Drive-By Truckers were playing at Tipitina's, just up the block, and I had tickets.
In the background, radar images of Katrina swirled on the bar's television set. The storm still appeared forecast for the Florida panhandle.
A week later, Slidell, the Sentry-News, New Orleans, my life, the lives of the hundreds of people I covered, and the lives of millions of people in the region were forever upended. We were the front page.
Wednesday: Slidell Stories