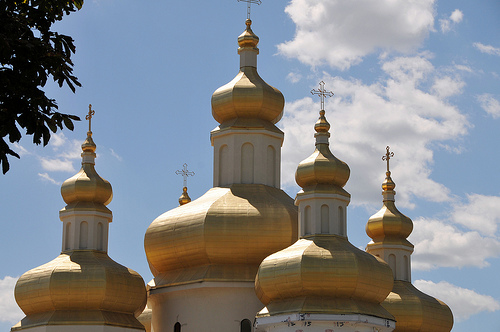 The golden domes of St. Michael the Archangel Ukrainian Catholic Church tower over East Baltimore, rising deep into the city skyline. Children playing in nearby Patterson Park, just across the street in the shadow of the church on Eastern Avenue, often wonder at its palace-like qualities. Is it stuffed with jewels? Does a princess live there? Must I take a magic carpet to reach the parapets? 
The five onion domes provide a mythical spectacle among the Federal-style brick rowhouses that surround the church. The congregation St. Michael The Archangel serves has been part of Baltimore, in one form or another, since the 1880s, providing a home for thousands of Ukrainian migrating to the states. This facility, however, was built relatively recently, finished in the late 1980s. I've been inside the main chapel, once, long ago, for a ritual I can't remember but which overwhelmed my senses with incense and prayers spoken in a language I didn't understand.
Today, though, I'm stopping by the St. Michael's reception room to pick up a dozen pierogies, those delicious little Eastern European savory pastries stuffed with cheese, potatoes and meats, sometimes served with kielbasa and sauerkraut. St. Michael's congregation sells them once every year, on an open weekend in December as part of their Christmas bizaar, and since they aren't as common here, as, say, in Cleveland or Pittsburgh (they have pierogi races at Pirates games) I knew I needed to snag some.
I enter the basement, and, through a kitchen window counter, order a dozen potato pierogis from a young lady with glasses, then pour a coffee from an aluminum thermos and find a seat. St. Michael's rec room, like most church rec rooms, wraps you in a comforting embrace. The walls are painted cream, and there's an icon of the Mother Mary and Blessed Child hanging above a table of pastries. Large oval tables, covered in plastic tablecloths decorated with roosters, are set out for today's festivities, and small groups of elderly men, distinguished in their blue blazers, sit together and talk intimately to each other, their lips invisible behind their snow white Slavic mustaches. Younger parishioners sit at bazaar tables along the room's edges, sell Eastern Orthodox Christmas eggs, handmade dolls, polka CDs and other Christmas presents.
In the church kitchen, women, mostly older, though some young, hover around a mass of dough. They chat, pull handfuls of the dough, fill them with a cream, then pinch the edges to form potato pierogies. In their conversations, the ladies flow easily from Ukrainian to English and back.
Ukranians are one of the pillars of the East Baltimore's 20th century immigrant block— which also includes Poles, Greeks, Jews and Italians. I have a Ukrainian uncle, Bob (family name Bohan) Bulawka, who grew up in East Baltimore, though I believe he attended a different church. His parents, Anatole and Maria Bulawka, moved to Baltimore during the World War II exodus. I knew them briefly. Maria was a pleasant, full woman who, on Orthodox Christmas (January 6 on the Gregorian Calendar), gave my brother and I a box of chocolates to share. Anatole, a priest by trade, was confined to a wheelchair at the time. He would always, in a sweet way, hit on my mother, and, before any dinner, would lead the table in a rendition of "God Bless America." His voice was always the loudest and most proud.
I sip my coffee. There are a few children waddling about the room, and, at an adjacent table, a young couple plows through their plates. Otherwise, this is an older group. So many faces are marked by weary eyes and wrinkles. How many still live in nearby Patterson Park or Canton? How many have passed away? A middle school classmate of mine at Cathedral School, Nadia, and her family were members of St. Michaels, and during a field trip as part of our World Religion studies, I remember the priest mentioning how they wished they had built the church in the county.
After about 20 minutes, my order is ready. In my car, I open the styrofoam container, and am immediately hit by a wave of cooked onions and fried dough. The white periogi shells glisten from cooking oil. I bought these for a late winter dinner, but decide to sneak one before I drive off. The outside is hot, the potato filling is savory. Outside, there is an open sky, and a late winter sun bounces of the golden pillars of St. Michael the Archangel, blinding to those who stare directly at them.
———————————————–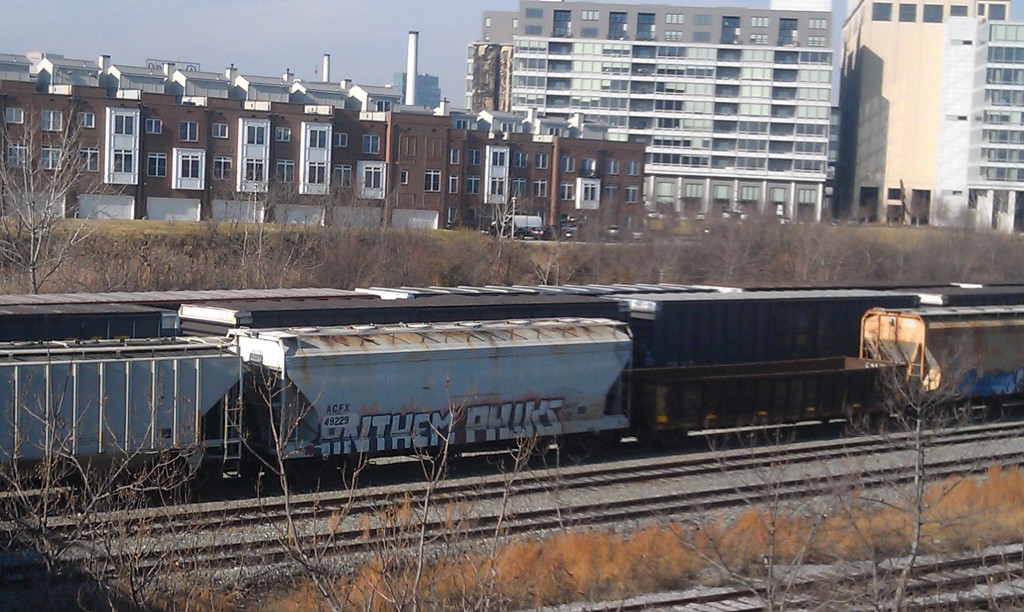 Earlier in the day, I had decided to run five miles through Locust Point, a southwest Baltimore neighborhood that juts out into the Patapsco River. Fort McHenry sits at the end of the peninsula, and since it was a mild December day I wanted to jog around the state park, against the water's edge.
I parked my car on Key Highway, across from the Museum of Industry, and started my run, turning on to Fort Avenue. East Baltimore is readily recognized as the city's immigrant community hub, but Locust Point was the original entry point for hundreds of thousands of new Americans through the mid-19th to early 20th century. The Irish and Germans were the first to enter in droves starting in the 1840s, followed later by Italians and Eastern Europeans starting in the late 1800s. The Baltimore & Ohio Railroad did big business off the immigrant movement, signing travel package deals with Atlantic steamship companies that included train tickets into the heart of the U.S. They eventually built their own Ellis Island-style facility on Locust Point to process the new arrivals.
Thousands of those immigrants, and the children of those immigrants, found work at Domino's Sugar, the grain elevator and dozens of other factories along the water in Locust Point, or in East Baltimore and along the Inner Harbor. Domino's Sugar still operates as a refinery here, though Under Armour has taken over the Tide Point factory, the former home to Proctor & Gamble Industries. They made soap there. The grain elevator, meanwhile, is now a high rise, high-end condominium.
Outside the fort, I cross a bridge over train tracks, passing dozens of new million dollar townhouses, rising up in the silo's shadow, overlooking the mountains of quartz, rock and sand covered in massive tarps. Over on the outside of the harbor, a cruise ship, perhaps preparing for a trip to Bermuda or the Bahamas, bobs quaintly. In the foreground, dozens of freight engines and chemical cars idle in a long line along the train tracks below. Up ahead is J. Patrick's, an old Irish bar at the corner of Andre and Clement Streets. They will close at the end of the New Year. The owner passed away back in June and there's apparently no family to take over. Meanwhile, Silo 5% Wine Bar, which features a 200-bottle wall of wine with imports from California to Chile to France, is brimming with business. New blood after old blood after new.
—————————————————–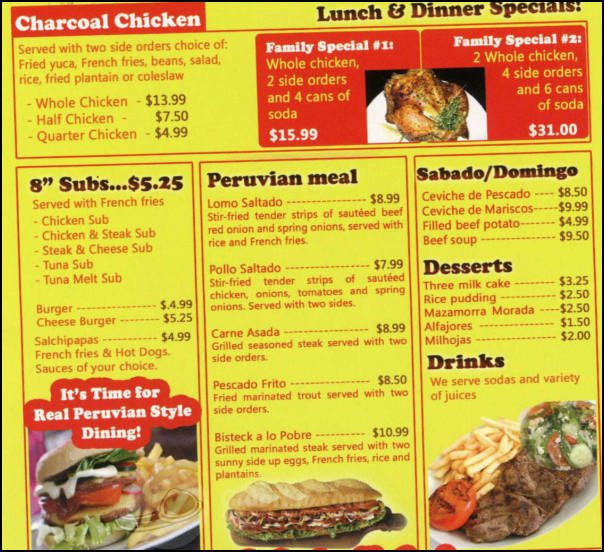 Since I was picking up the pierogies for dinner, and I had just spent the afternoon running, I still needed to grab a bite. Luckily, Chicken Rico, up Eastern Avenue, is only about a dozen blocks away from St. Michael's.
Back in the early '90s, you could count up the city's entire Latino community with a quick drive through Upper Fell's Point. While it's hard to say that Latino population has exploded in Baltimore (you'll find bigger, more established communities in the D.C. suburbs), it's definitely grown exponentially, stretching into the Patterson Park neighborhood and up Eastern Avenue into Greektown. As these families —most of them Central Americans escaping a variety of civil wars and drug violence in their home countries— moved in, businesses popped up to serve them. Native Baltimoreans like myself, then, have been blessed with a new selection of grocery markets, bakeries, restaurants and taquerias selling items you couldn't find here just a few years ago.
Chicken Rico, located in an old cafeteria about a block east from the Southeast Library and Frank Zappa's bust, which today is decorated in a Santa hat and beard, is one of these new, wonderful choices. They are famous locally for their Peruvian rotisserie chicken, cooked on long metal spears in a giant oven, the birds turning in unison, a sweltering chorus line of deliciousness.
The dining room, about the size of a regular fast food joint, is bopping with dozens of people, almost all Latino families. Though the Avenue regularly features a cavalcade of urban folk, many of them swept up in the city's drug plague, they are absent from the restaurant today. I am the only gringo. Spanish swims around my head.
I move up to the counter area. A young Latino man stands on the other side, cleaver in hand. Recently cooked breasts and legs are spread out before him on a plastic cutting board. "What size? White or dark man?" He shouts at two African cab drivers who are in line in front of me. The carver points to the menu board with his knife, which breaks down the order flow; quarter, half or whole chicken with two sides and a drink. The two cab drivers can't understand the carver, and start ordering pieces. "Wing man, two wings." The carver shakes his head no vigorously. After some translation negotiations, the cabbies get their plates and move down the line.
I order a quarter dark. With one chop the carver spits my thigh meat from a drumstick, slides it on a plate and moves down the cafeteria counter, to a lineup of side dishes. I pick fried plantains and dirty rice. The carver thanks me then starts complaining about the cab drivers who ordered before me in Spanish to a female line cook. I pay a separate young man, who drops a can of soda into my plastic bag. Standing out in front of Chicken Rico along the Avenue, there are faint signs of Christmas; garlands in the windows of pawn shops, errant light strands dangling on the nearby row houses. Young white men in baggy sweat pants huddle near the street corner together over cigarettes, glaring out as the cars roll by.
Again I find myself sitting in my Buick, hungry. I pull out the Chicken Rico bag and snag a quick bite of a fried plantain. The styrofoam container is hot in my hand, heavy, piping from the fine South American cuisine. The container itself is decorated, surprisingly, in a half dozen U.S. flags printed into the foam. There is a slogan printed under each flag, reading, simply, "Pride in America."