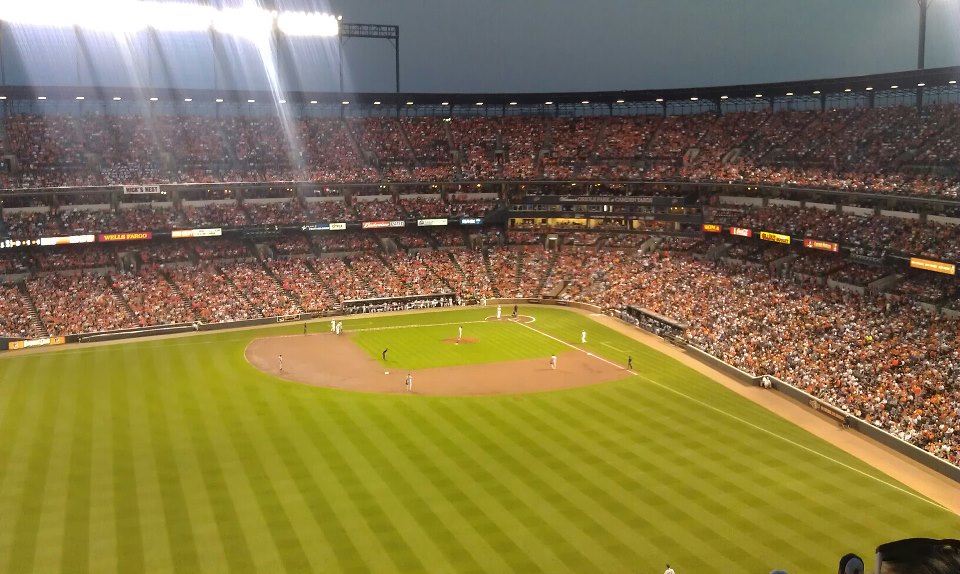 You'd have to go back to 2001, the year the Ravens won the Superbowl, Baltimore native Hassim Rachman knocked out Lennox Lewis for the heavyweight title and Maryland's football and basketball built their runs to an Orange Bowl appearance and a national championship, respectively, to find a year that would beat 2012. This year Charm City lived a charmed life on the athletic field. The Orioles blessed us with their first playoff appearance since I was a sophomore in high school, the Ravens continued to truck along as a premier franchise and even the local Loyola Greyhounds snagged a national championship in lacrosse. With 2013 almost here, Life Of Kings takes a look back at the Sporting Year that was…
Top 5 Attended Live Sporting Moments of 2012
*I was live in attendance at all these events
5. HS Basketball | Patterson at Polytechnic | Jan. 21
In a Word: You are not a true Baltimorean until you've attended a city public high school basketball game. There's music, clan rivalries and always a slight hint of violence hanging in the humid gymnasiums. Aquille "Crimestopper" Carr was the biggest homegrown Baltimore sports story in 2012, earning national hype through his Youtube mixtape videos and a feature in GQ. He eventually led the Clippers to a Class 3A title, but on this deep winter night, the Engineers pushed the city's hottest recruit to two overtimes, and then finally took the home win. After the game, Foxtrot circled Poly, and a cop bellowed through a Megaphone at the kids to disperse.
4. Men's Lacrosse | Johns Hopkins at Loyola (Md.) | April 28
In a Word: Fan bases are hard to come by in lacrosse. There's Syracuse, there's Hopkins, some love in the ACC. It's fickle. Loyola, however, has rightly emerged as one of the game's premier lacrosse schools. The students know lacrosse, know how to cheer in the right moments and when to get wound up for a goal. Take their reaction when junior attackman Justin Ward scored a game-tying goal with seconds left against Johns Hopkins in front of a soldout crowd at Ridley Field in late April. Sitting in the press box, I thought the $60 million stadium was going to fall down around me. They shook Ridley to its pillars. No fanbase deserved a national championship more than the Greyhound loyalists. (video 6 in the play list below).
3. MLB | New York Yankees @ Baltimore Orioles | Oct. 8
The Baltimore Orioles hadn't hosted a MLB playoff game since 1997. And even then, it was the old Camden Yard crowd, effete and lethargic in its demeanor. Part of what made the 2012 playoff run so special was that it rewarded those with true Orioles DNA, those of us who sat through years of Rodrigo Lopez Ace Pitcher and Jack Cust's stumble to home and Rafael Palmeiro's wagging finger and Grecian Dictator Peter Angelos. Our sad, disparate loyalty finally paid off in a beautiful Monday evening playoff win against the hated Yankees, with O's ace closer Jim Johnson striking out Alex Rodriguez. It was the culmination of a September that will echo for years.
2. NFL | New England Patriots @ Baltimore Ravens | Sept. 29
Sunday night games are a bad proposition for Baltimore fans. There's too much idle time beforehand, too much anticipation. Booze is consumed in volume. I don't arrive at Ravens games until about 10 minutes before kickoff (we are a strict no-tailgate family), but on this night, you could feel the violence emanating from the stands. Eyes were glassine. Cuss words were shouted liberally at New England Patriots and their fans. The replacement referees were still calling penalties, and the fans were ready to pounce on the first signs of egregiousness. In the second half, after the head judge called a horrible personal foul on John Harbaugh for jumping onto the field to make a time out call, the crowd unleashed its fury.
The game ended in a dramatic 31-30 victory for the Ravens, after rookie kicker Justin Tucker squeezed a field goal just over the uprights. Receiver Torrey Smith, who just 24 hours before kickoff learned his younger brother Tevin had been killed in a motorcycle accident, finished the game with 127 yards and two touchdowns. Yet, the game will be remembered as the time when the Ravens faithful rose up in one voice to call bullshit on the league.
1. MLB | New York Yankees @ Baltimore Orioles | Sept. 6
The front bookend to the Yankees-Orioles ALCS series. This game kicked off not only the most important home series for the Orioles in 15 years, but also marked the first real moment that the city believed that this could really be a playoff season. I wrote about this game earlier this year, and my memories from that night has not dampened, even slightly.
2012 Games Attended By the Numbers
Baltimore Orioles: 10
Baltimore Ravens: 2
Premier League Exhibition: 1
U.S. Open Tennis Championships: 2
NCAA Lacrosse Championships: 3
MIAA Lacrosse Championships: 2
Best Sports Story I Wrote in 2012
Inside Lacrosse Magazine
How John Danowski Leads the Blue Devils
Right as I begun my interview, coach Danowski asked me "What would you like to do with your life." That flips perspective immediately. One of the more unique men in all of coaching, not just lacrosse.
Runner-Up
InsideLacrosse.com
UMass, Led By Senior Class, Keeps Focus on CAA Title
My lesson into how to turn a negative into a positive.
Best Athlete's Twitter Account
Adam Jones : Baltimore Orioles
@SimplyAJ10
Food photos! Home buying advice in Maryland! Dogs! There's a perfect psychology discourse on display in the 2012 Orioles MVP's tweets.
Top 5 Sportswriters I Enjoyed The Most in 2012 (In No Order)
Drew Magary: Deadspin
@drewmagary
This year marked Magary's move into the mainstream. His Jamboroos and Funbags! are required weekly reading, and his Balls Deep rants (favorites included this go at Jerry Seinfeld to and his run at Matt Millen 's horrendous job breaking down the Freer Report) hit the mark consistently. And he hates Gregg Easterbrook much worse than I do, and I despise that dude. The only weak moment was this GQ piece he wrote following a visit to Penn State in the wake of all the horribleness. He's his best when he's his most violent, and in that article he went searching for universal answers. Sometimes, there are just none. Prime Example: Hey, America, Don't Let Your Children Shit at Restaurant Tables
Zach Lowe: Grantland
@ZachLowe_NBA
Basketball writers have finally found how to find context within the new statistical output (the key? analyzing 2-3-4 and 5-man combinations and their effectiveness instead of individual statistics). Lowe does this better than anyone. Prime Example: Thunder Bolt – Examining Oklahoma's Risky Move and the Beginning of the James Hardin Era in Houston
Louisa Thomas: Grantland
@Louiahthomas
She writes tennis, which is always a plus, and marries a haunty Ivy League literature voice with sports seamlessly. Prime Example: All About Andy – A Fond Farewell to American Tennis' Almost-Golden Boy
Thomas Lake: Sports Illustrated
@ThomasLake
Wins this year's Gary Smith Award for Best Longform Writing. Two excellent features of his made my Must-Reads of 2012. Prime Example: See Top 10 Stories of 2012
Tom Scocca: Deadspin
@TomScocca
Took over as Deadspin's managing editor, and the site didn't lose a beat. Not as flamboyant as Big Daddy Drew, but usually makes his case with more precision and focused anger. Scocca's also a Baltimore guy, grew up an Orioles fans and wrote for City Paper (including tag-teaming with Mr. Wrong Joe MacLeod on a weekly breakdown of the Baltimore Sun's comics section) before moving on to Washington City Paper and Slate.com. Somewhere in my email backlog is a response he emailed me after I asked him advice on how to break into writing sports. Glad to see he's at the top of the heap. Prime Example: Tony Siragusa Says He's Never Wanted to Hurt Anyone. Tony Siragusa is a Liar.
Top 10 Sporting Stories I Read in 2012 (In No Particular Order)
Sports Illustrated
The Boy They Couldn't Kill
By Thomas Lake
Sports Illustrated
Andy Murray Rewrites Script With Dream Breakthrough at the U.S. Open
By S.L. Price
Grantland
You Either Smoke Or You Get Smoked: An Oral History of White Men Can't Jump
By Thomas Golianopoulos
Sports Illustrated
Did This Man Really Cut Michael Jordan?
By Thomas Lake
Boston Magazine
End Game: The Fall of Curt Schilling's 38 Studios And Loss of $75 Million in Rhode Island Taxpayer Money
By Jason Schwartz
Grantland
The Breaking Point: Was Sunday night's Patriots-Ravens game the lowest moment of the NFL ref lockout?
By Charlie Pierce
GQ
The Legend of the Crimestopper
By Corban Goble
Deadspin
Is An ESPN Columnist Scamming People On the Internet?
By Deadspin Staff
Sports Illustrated
Down to the Wire
By David Simon
Grantland
The Billion Dollar Coach
By Michael Weinreb
2013 Devotion Rankings (Who I'm Cheering for Hardest in the New Year)
1. Baltimore Orioles
Highest Lifetime Ranking: 1
As the Orioles pursued a playoff spot, the month of September slowed to a much welcomed crawl. The entire late summer was dotted with hallmark baseball moments. The four-game series split with the Yankees to kick off the month. The 13-inning victory against Tampa that sealed the team's first winning record in 14 seasons. Manny Machado's "Don't throw it away, don't throw it at ALL!" pump fake throw. Nate McLouth and Chris Davis' Dirty Dancing moment after a game-winning hit against Tampa. The late nights huddled on the couch watching the Orioles on their last West Coast roadtrip, with extra-inning games stretching into the wee hours. The final home game against Boston, with the team standing on the field with the crowd watching the Texas contest on the big JumboTron, the crowds staying with them to cheer them on.
This wave hit its high tide when the Orioles beat the Texas Rangers 5-1 in the sudden death Wild Card game down in Arlington. That night, after an exhausting evening watching the game at Frazier's on the Avenue, I wrote:
"I was in a bar tonight. It was full of Orioles fans. They cheered every pitch, and every base hit. They started an "O'Day, O'Day, O'Day" chant that lasted two and a half innings. When McLouth caught the last out, the bar exploded in jubilation, 15 years of frustration pouring out. People spilled into the street, cries of joy rang out through the neighborhood, and, even in the late evening, the shouts echoed in the distance. This was not a mirage. This was real. Concrete. You could taste it."
Expectations creep in after a season like that. It's not new anymore. The pain of previou seasons has been abated a bit. This was special.
2. Baltimore Ravens
Highest Lifetime Ranking: 2
My devotion to the Ravens fluctuates more than I like. Too much local talk radio consumption and obtuse opinions from the fanbase, probably. It shook me a bit when I agreed with Deadspin's Drew Margary's breakdown of Ravens Nation. Still, just when you think you're out…. If the Sunday Night, "Dude, I think we're really going to kill these replacement refs" New England game didn't pull me back in, my disgust and disappointment from the overtime loss to the Redskins a few weeks ago rekindled how the passions. I doubt we win a Superbowl, but the consistency of their success is unquestionable.
3. NBA Basketball
Highest Lifetime Ranking: 3
Football is America's Passion, but the modern NBA is our collective Horatio Alger story played out on a hardcourt. Talent leads the equation, but ingenuity and sparkle are also vital. Few moments make me scream into my fist more than a Lebron slam dunk or a Kevin Durant three-pointer. WIth no home team passions to taint me, instead float to the big national games and storylines. And no broadcast team anywhere in sports is better than Ernie Johnson, Kenny Smith and Charles Barkley (though Shaq might as well be a coat rack at this point. Just make Chris Webber a full-timer and be done with it).
4. Tulane Green Wave
Highest Lifetime Ranking: 2
I swear, I experienced fantastic Tulane sports moments in my collegiate career. Most of those moments were from the team's baseball team; the three-game baseball series against Cal-State Fullerton. Two CWS trips. Michael Aubrey crushing a hanging slider for a game-winning, three-run homerun against UAB. Micah Owings pitching performance against Rice in the 2005 Super Regional. Hell, basketball and football had their moments, including quarterback J.P. Losman (yeah, sorry about that Buffalo Bills) and runningback Mewelde Moore leading the team to a 2003 Hawaii Bowl victory, and a solid 2004 basketball squad that starred eventual Iranian League player Watari Marsh.
But its a program that, especially since Katrina, has mostly existed in a whirlpool of torment, too idealistic and cash strapped to properly fund a DI program, and too attached to its local history to drop to FCS or Division III status. In a sign of how far the school's stature has fallen, its recent addition to the Big East was used by the Catholic basketball-only schools as an excuse to finally make the inevitable move to leave and start their own group. They're no mountains in New Orleans, but it's going to be a tremendous uphill climb for Tulane to find respectability.
5. ATP Tennis
Highest Lifetime Ranking: 3
My biggest professional dream is to cover the French Open, Wimbledon and the U.S. Open all in one summer. There's still time of course, but it was a pleasure to take the 7 train to Flushing Meadows this summer for a day session for the U.S. Open. Next time I'm going to buy an early night session ticket and enjoy the late August evening in Queens.
6. Maryland Terrapins
Highest Lifetime Ranking: 2
The Terps were my second favorite team behind the Orioles when I was young. WBAL AM broadcast their basketball games, and I fell asleep listening to longtime voice of the Terps Johnny Holliday. I also attended the game that can arguably be pointed to as a rebirth of Maryland basketball, a 76-74 victory against Duke in 1994 in deep winter at the old sweat barn that was Cole Field House. Eventual No. 1 pick Joe Smith blocked Duke's final shot in the waning seconds of regulation and the students ran out into campus, which was covered in new fallen snow, and built snowmen. A far cry from Route 1 riots.
Time marches on. I attended Tulane, and my interest in Maryland basketball waned after the Terps won the ACC Tournament in 2002. I enjoy watching and attending games, but its increasingly an analytical experience. Loving me some Alex Len though.
7. Liverpool FC
Highest Lifetime Ranking: 7
Liverpool FC is a kernel of a interest, waiting to flower into full bloom. I mean, you can't beat this type of passion, and Suarez is makes scoring an act of poetry. This has been a tough year for the Reds, too, and I enjoy really getting to know a franchise on the ground floor. Makes reveling in the high points feel more sincere later.
8. Division I Men's Lacrosse
Highest Lifetime Ranking: 4
It's the crux of writing about a sport rather than following it as a fan; you force yourself to remove emotion from the equation, and the passion turns to an analytical outlook. Still, maybe next to basketball, big moments still make me jump from my seat.
9. New Orleans Saints
Highest Lifetime Ranking: 5
Tough year for the Saints. I'm still pissed that, though I bought a ticket for the weekend of their Superbowl victory run to go to New Orleans, a snow storm stranded me in Baltimore. Missed an epic party. Upsetting.
10. Washington Wizards
Highest Liftime Ranking: 10
Hey, I enjoy basketball, and dearly wish Baltimore had its own NBA franchise. D.C. is in the cradle of one of the biggest fountains of basketball talent, and its a shame the area doesn't have a franchise that properly reflects that enthusiasm.