Mardi Gras 2012: In 50 Parts
 "New Orleans manufactures moments. It's a tourist economy with something organic underneath, the best we can be as Americans: It's a triumph of the melting pot, right down to the rhythms of the street! It's black, it's white, it's Cuban, it's Haitian. It's our greatest export." —David Simon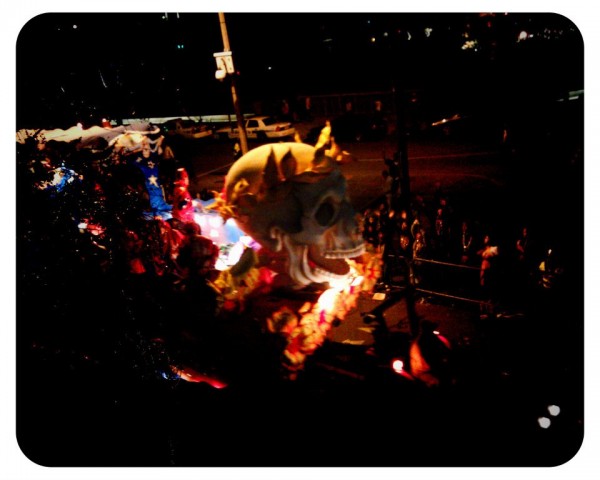 50. New Orleans night parades. The Friday evening before Fat Tuesday is my favorite night of New Orleans Carnival. The Krewe of Hermes, with their haunting artisan floats, and Krewe D'Tat, led by The Dictator with their floats featuring their hallmark conservative political satire, roll together. The flicker of flambeaux illuminates the night. The weekend tourists start to float into town, and whiskey serves as a good weapon against the biting February Gulf Coast air. It is, indeed, Mardi Gras time.
49. The Fabourg Marigny. Our rental home was located on the corner of Dauphine and St. Ferdinand in the Marigny, a neighborhood downriver from the French Quarter. Though I spent many nights on Frenchmen Street, the door of the neighborhood, I never visited the heart of the Marigny, which starts on the other side of Elysian Fields. After this trip, I wish I had. It's an artistic community, popping with young hipsters and middle-age scenesters, a vibrant gay scene and well-to-do empty nesters. Bars like Mimi's and the Lost Love Lounge serve as meeting depots. It's an alive place to be during Mardi Gras, sparkling in green, gold and purple, and in costumes. A beautiful base de camp for the holiday.
48. Peter Fountain's Half-Assed Walking Club, resplendent in their canary yellow blazers and fedoras. They were especially fond of Sam in her green corset. For her favor, she received the most precious medallions.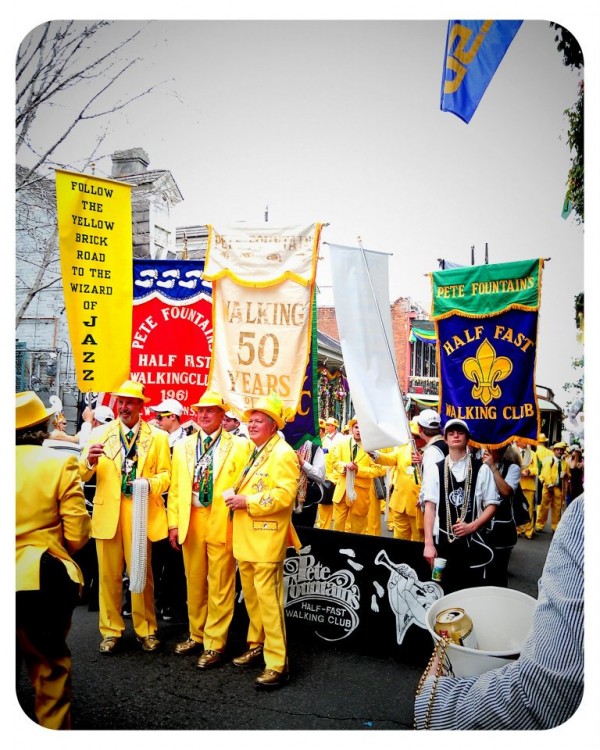 47. Coffee Shops. New Orleans, thanks to its Franco-Hispanic history, has a long relationship with coffee, importing the famous bean from the colonies in Central and South America. The world knows Cafe Du Monde, but from Rue De La Course to P.J.'s and beyond, Nola is home to dozens of cozy, scruffy coffee shops. Favorites in the Marigny included the Orange Couch, The Flora Gallery & Coffee Shop, both on Royal, and, on Decatur in the backend of the Quarter, Cafe Envie.
46. Thanks to a few charmers in the group, we worked our way onto the balcony of the Circle Bar, a classic New Orleans watering hole housed in the first floor of a decrepit stand-alone building, nestled in the shadow of Lee Circle on the border between the Warehouse District and the Lower Garden District. The view, above the bands and floats in the New Orleans night, helped set up an enchanted atmosphere for the Friday evening parades.
45. Hanging with Mr. Wu, the house cat at Molly's On the Market.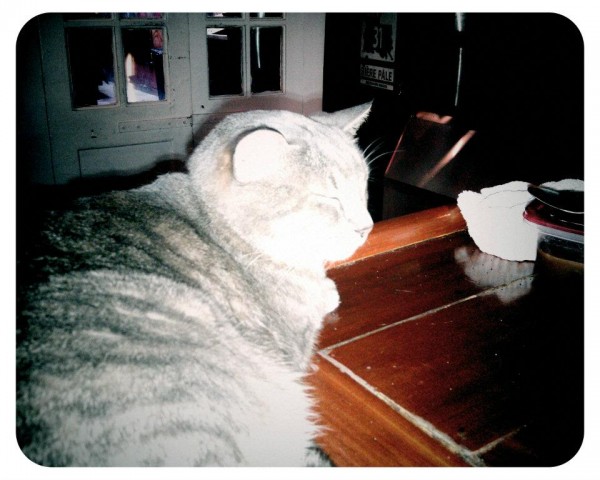 44. I was able to relive an old tradition: Passed out on a couch, bag of Gator-tator Zapp's in hand, the oddity that is the PBS broadcast of the Rex and Comus Ball glowing in the background. A perfect combo to induce slumber.
43. Red Beans & Rice at the Praline Connection.
42. A Unique to New Orleans Breed, Part I: The Scenester. They're cool, they're 40, they partied until 4 a.m. last night, they snuck backstage after the concert because they're favorite bartender's sister is friends with the keyboard player, and they got a wicked hangover they're trying to shake off. Other cities can lay came to Scenesters (New York, looking right at ya), but Nola's contingent is of an old breed. To wit: It's 10 a.m. Two obviously over 40 men, both wearing black suit jackets and jeans, one with floppy brown hair and a Tom Selleck mustache, the other with long Michael Bolton head of hair, chat over cups of coffee. Tom Selleck goes on about the Sunday evening Trombone Shorty concert at Tipitina's, rocking it until well passed 4 a.m. They deduce that Shory's more rock'n'roll than jazz, and wonder how he got that jazz Grammy. He can blow though, no doubt. Later, the mustachioed one jumps on his black beach cruiser bike and peddles away.
41. Abita Beer, now in cans.
40. Buskers. There was a bearded urchin bowing away on a bandsaw. And a small South American with the body-sized pan pipes. And the impromptu stick percussion-melodica jam session on Frenchmen. The busker talent was at full peak for Mardi Gras this year. I made it rain dollars in ye olde tip jar.
39. The Pork Chop Express. Have you paid your dues, Jack? Yes sir, the check is in the mail.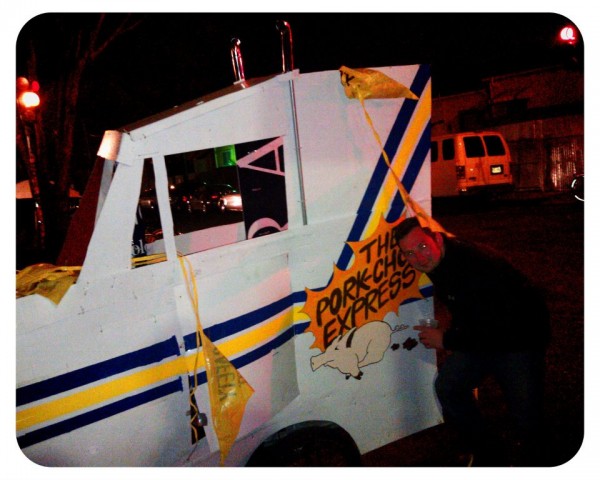 38. Spareribs. We're talking multiple racks of fresh barbecued spareribs, cooked right on the grass of the neutral ground along Basin Street. There are the Indians and Bone Men and the Baby Dolls, but overwhelmingly Mardi Gras isn't a day of fantasy dress up for the city's African-American community. Instead, it's a reunion day, where extended families hang out, watch the Zulu parade, drink beer and dance. This is only augmented by piles of juicy, sauce soaked ribs, which an extended African-American barbecued up as King Zulu passed by near Treme.
37. In the wee darkness of Mardi Gras, my girlfriend and I found ourselves on the second floor of Mimi's in the Marigny, sitting next to a dozen canisters of empty nitrous tanks, appreciating the white hipsters breakdancing to bounce. A man in a sheep costume, hailing from Boston, conversed with us.
36. Best Bead I Caught 2011: Krewe D'Etat's glow-in-the-dark plastic skull man. Honorable Mention: Krewe of Mid-City Heart medallions.
35. The Dauphine-St. Ferdinand Gang, Mardi Gras Day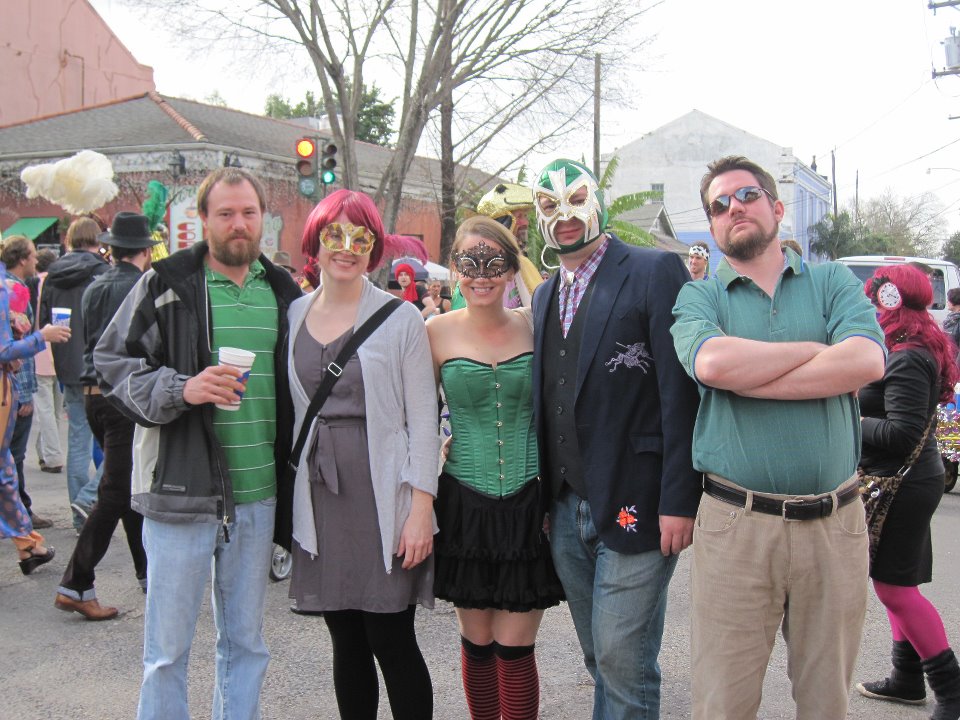 34. Magic New Orleans Moment 5: Evening sets in over the Marigny. A creamsicle backdrop melts behind large cloud dollops and caresses the rooftops of the neighborhood's shotgun houses. An older man in a blue jean vest pushes a shopping cart stacked with dozens of snare drums, cymbals, tom-toms and buckets toward Frenchmen Street, his path before an evening performance. Across the road, an African-American man painted from top hat to shoes in industrial silver, obviously on of the human-statue performers from the French Quarter, emerges from "Market" and heads home after a day's work.
33. Heralded by a lone "Market" sign, the Mardi Gras Zone Market is an independent grocery story built into the backend of an old wharf warehouse in the Marigny. It's open 24/7, stocked with fresh produce and organic goods along side the regular groceries, and features both a deli and a hot pizza kitchen. Drunks find haven, and a slice of pepperoni, here.
32. Crawfish Sushi!
31. Though the St. Charles Ave. Streetcar gets its just attention, the Magazine Street RTA busline is a hidden gem. A $3 all day pass takes you from the Warehouse District to Audubon Park, hitting at least three major shopping jaunts,  the Garden District and Tipitina's on the route.
30. Trombonist Glen David Andrews, an off-shoot relative of the famous Andrews family of musicians in New Orleans, rocked D.B.A on Lundi Gras.
29. The Power of Mighty King Zulu, sitting high on his throne, feather plumes radiating about his snow white regalia, as the float moves down Basin Street toward Carrollton and Broad, a towering City Hall as a halo in the background. There's a unsubtle message in this. Zulu earns its strength from New Orleans' black community, and in turn that power is connected to the city's political system. Zulu's parade is visual expression of this power, and this final turn, toward the historically-black Treme neighborhood, honors the engine that drives the Social Aid & Pleasure Club.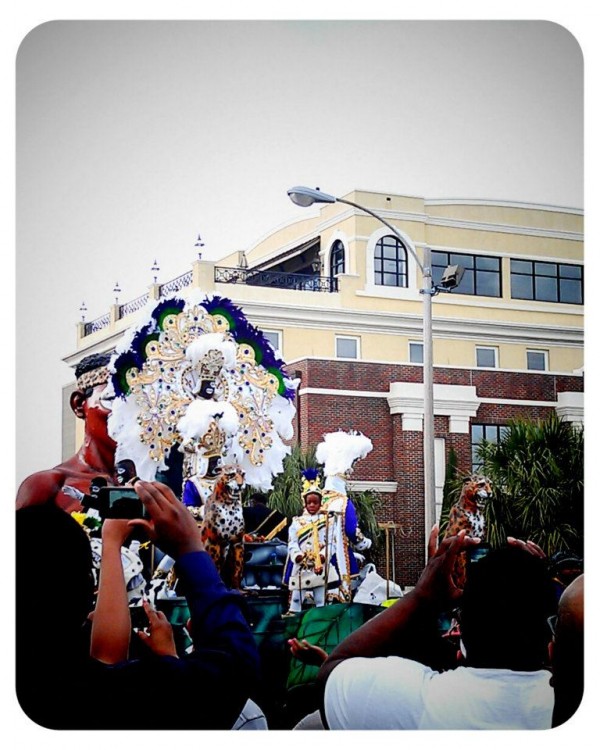 28. A Unique to New Orleans Breed Part II: Quarter Rats. The gutterpunk is a regular guest star in the fabric of modern American cities. In New Orleans, they're call Quarter Rats (aptly found strolling about the French Quarter). They prop up in groups of twos and threes during the Gras, riding into town on the nearby freight trains and squatting in the abandon houses in the Ninth Ward. They're poor, either by circumstance, sometimes horrific in nature, with stories are riddled with tales of sexual abuse or alcoholism or neglect. Or, they're on the road by choice. They don't shower and suffer from bad hygiene. They own dirty dogs (this is a practical move, forcing authorities to call Animal Control if they're stopped). There are a handful of talented musicians among them, but they're usually outweighed by drunks banging out songs on broken guitars. Except when its a cello or melodica or, my favorite, A Really Heavy Stick. And yet, I don't know if New Orleans, and Mardi Gras in particular, would be the same without them.
27. Bloody Mary's. New Orleans just does them right. A little more hotsauce to the mix. A pickled bean. No celery. Lunch isn't right without one.
26. Magic New Orleans Moment No. 4: Early Lundi Gras, and the sun has set, and the evening sky is a blue black, thin as water color. I can see the tops of tugboats pass by along the Mississippi, situated just a few blocks from our house. Suddenly, emerald flames burst overhead, just above the tree line. It's a firework, the first punch of a 20 minute showcase, the epic finale of a ceremony where Rex and King Zulu meet on the Riverfront. We sit and drink vodka and what the sky glow in thrusts of color and heat.
25. The Intergalactic Krewe of Chewbaccus. All Hail the Mighty Drunken Wookie! A few years ago, following an intense bar conversation, Ryan Ballard, a New Orleans buddy of mine, and his friends kickstarted a new Sci-Fi themed walking krewe. A skilled artist and organizer, Ryan and the gang quickly built the Krewe of Chewbaccus into a force, with over 400 participants signing up to march this year. Rain hampered this year's parade, the second in the krewe's short history, but dozens of sci-fi themed costumers crammed the Big Top, then marched through the Lower Garden District to the Howlin' Wolf. The night finished with wet feet and cold drinks, and a Bender from "Futurama" jamming out to a Rockabilly/Sci-Fi cover band, complete with zombie go-go dancers.
24. Magic Moment No. 3: The train tracks run a few blocks from our house, at the corner Dauphine and Press Streets. Sunday evening, as a gray cold night started to settle, brass music emanated from the far side of the tracks. A funky procession, composed of young white hipsters wearing black and gold uniforms, practiced jazz funeral march music, before taking a stroll into the Bywater.
23. Audobon Park is a compact, beautiful public space. Spanish moss and white oaks form the tree line, cypress knees pop up from the water's edge and azaleas and junipers bloom. There is a natural pond, and it's filled with mallards and white cranes and ibises and, on this weekend, thousands of whistling wood ducks, standing in rows along the shoreline and on dangling tree branches. Nearby, men in green-gold-purple chest-striped polos drive golf carts around during a round of 18 holes on their day off.
22. Royal Street on a Saturday, aligned with buskers and magicians.
21. The Frozen Irish Coffee at Molly's at the Market.
20. The view of St. Louis Cathedral from the Mississippi observation deck.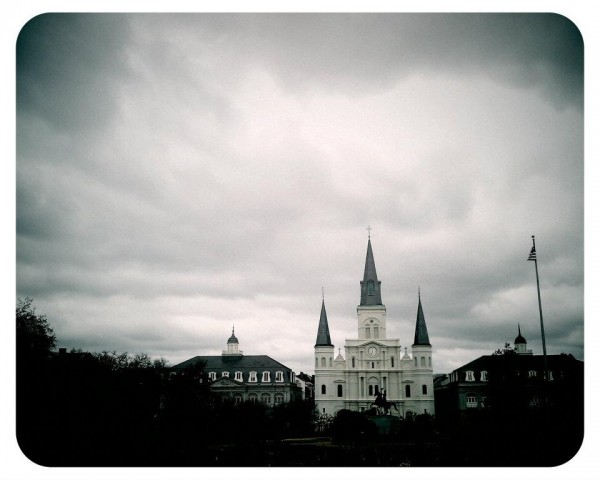 19. Mimi's in the Marigny, 9 a.m. on Mardi Gras day, packed with dozens of costumers ready to hit the streets.
18. Mardi Gras wouldn't be complete without the hundreds of evangelicals who discend on the city like so many locusts, ready to shove a heaping spoon of Jesus into your pagan worshipping gullet. On the Sunday before Mardi Gras, a Christian band rocked the Mississippi River observation deck, and the faithful sang with hands raised in worship, while grown men hugged each other, crying over their love of the Lord. Forest through the trees people.
17. Flambeaux.
16. Nola Brewery. A solid, if punchy, new microbrew out of the Crescent City. I especially enjoyed the Blonde Ale.
15. Wasn't there for it, unfortunately,Mike Simpson, an old friend and weekend roommate,  Ryan and a band of merry folk led an impromptu parade through the French Quarter on Mardi Gras night. There were fire-jugglers, a skeleton horse, free acid and ecstasy, and stops in front of St. Louis Cathedral and Bourbon Street. "There's one image I got in my mind," says Simpson, "And that's of St. Louis Cathedral above me, ringed in fire."
14. Macaroons from Sucre, New Orleans best upscale dessert shop. .
13. The dozens of women dancing to Bounce music heading toward the Treme.
12. The purple, green and gold bunting hung across the balconies in the French Quarter and on the houses in the Garden District. The colors radiate, and it's fitting that there's a Christmas shine to them. Wish every town understood Mardi Gras that way.
11. The band at La Maison off Frenchman that featured a 5-foot-3 blonde lady blowing up a trombone and a 50-something white guy banging out a stack of xylophones. Insane sound for a bouncing crowd. No cover either.
10. The Krewe of St. Anne's annual March from Mimi's on the Marigny down Royal Street through the French Quarter, up to Canal to greet Rex. The Krewe members are elaborately costumed —themes include Wizard Of Oz, Angels and Demons, Ghostbusters, muppets, clowns, mythical creatures, traditional carnival characters or, my favorite, human jellyfish. Here, an iron-welded Trojan Horse champions a krewe of leggy Spartans.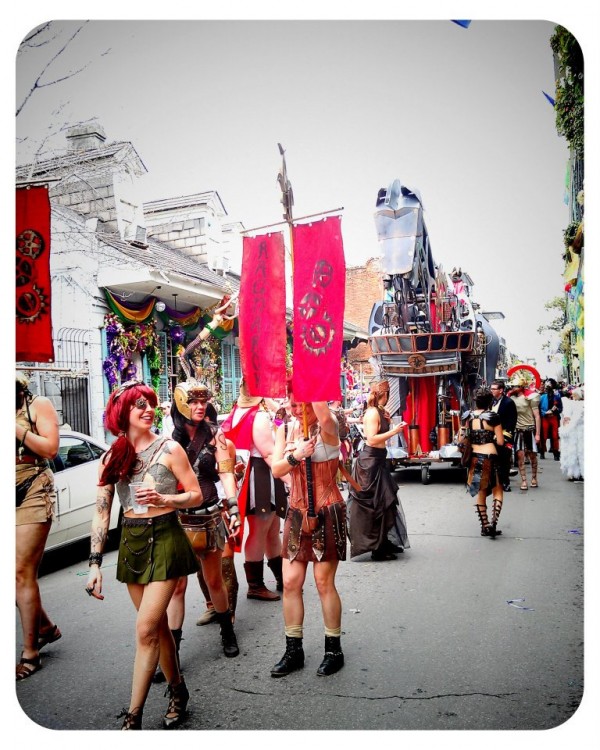 9. Alynda Lee Segarra, lead singer of Hurray for the Riff Raff, playing the upstairs at Mimi's in the Marigny. I made sure to introduce myself and invite her and the band back to Baltimore for a return engagement at the Windup Space that they missed a few years ago.
8. Bar-2 D2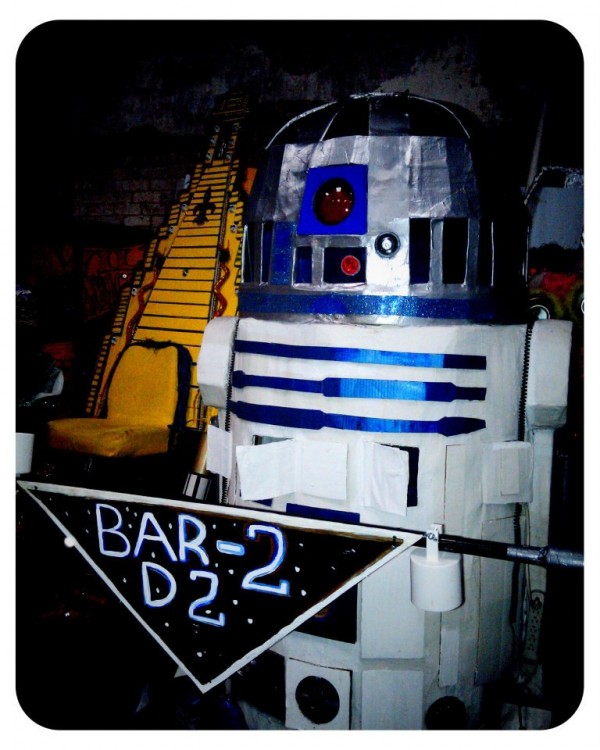 7. The corner of Chartes and Frenchman Street is where weird, wonderfully intriguing hipster shit goes down. Local brass bands like to pony up here on Friday nights. Or there's the D.J. Carts, shopping carts or push bins strapped with speakers and lap-top plug-ins, blasting dubstep and techo, prompting make-shift street raves. On Lundi Gras, a troop of marching band musicians, still wearing their majorette uniforms, belted out R. Kelly's "Ignition Remix", while a crowd wiggled around them. Few street corners see as much consistent action.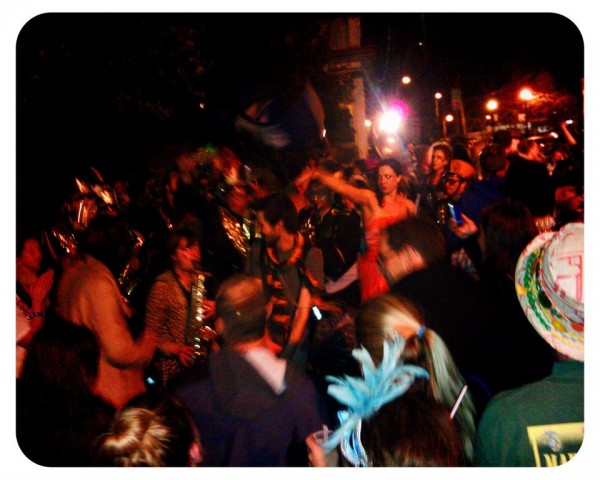 6. It's underrated but New Orleans' flatness makes it an incredibly walkable city. My thighs thank NOLA for the 30-plus miles I put in hoofing it from the Marigny to the Warhouse District to Uptown. Good times.
5. On Decatur Street, while stumbling back lightly stoned from adventure, Samantha found the perfect Mardi Gras suit jacket for me; blue with a cowboy shoulder seam, rose embroidary on the tails, a skull hombre on the shoulder blades, and skeleton horses in the middle chest. It matched the lucha libre mask perfectly.
4.  At D.B.A. Mardi Gras night. During a break, waiting to get a beer, I noticed a guy at the bar using an old-school phone receiver, using it as an attachment on his iPhone. I started laugh, and then noticed it was the lead trombone player and singer for the Treme Brass Band, who were performing their regular Tuesday gig. He saw me laugh, so he gave me the receiver, then called his wife, Tata, and had me wish her Happy Mardi Gras over the phone. I made sure to complement his bone prowess to her. He appreciated it.
3. Ryan, the Captain of Chewbaccus, is also a sub-captain for Krewe De Vieux, the satirical parade that winds its way through the Marigny, and signals the start of the Mardi Gras season. While we missed that parade, he was able to open up the Krewe's warehouse, located not far from our lodgings, for a peek at the 2012 floats, This year's theme was Crimes Against Nature. Though opinions varied, Bob Barker being assbanged by a cat who avoided the expected neutering was my favorite (remember kids, have your talkshow hosts spayed or neutered.)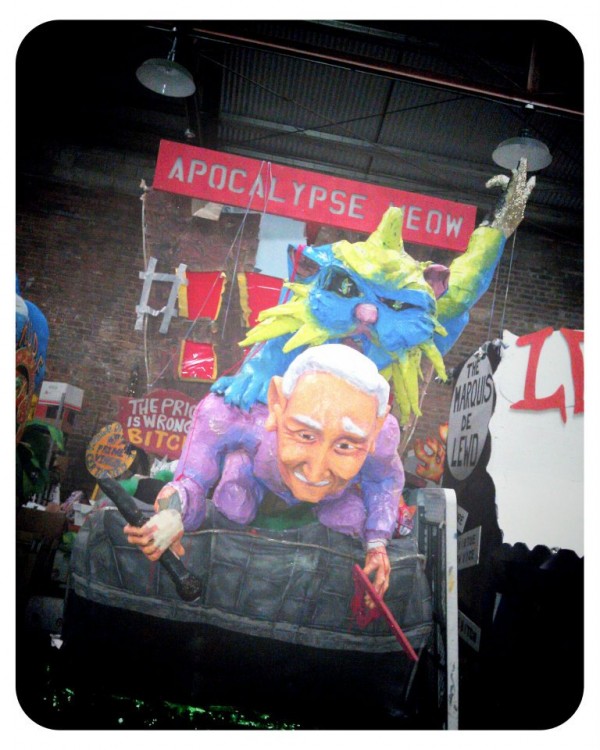 2. Our college years exist in a personal real estate, shimmering in the light of long dead full moons. Complexities of personalities evolve, devolve, rotate, stagnate and glimmer in nostalgia. And there's nothing better than a Mardi Gras to bring together old faces and rekindle warm memories. Hail to Tulane friends Mike Simpson, Dan Pasternak and James Brisco, along with new bodies, alive in Nola for another glorious weekend.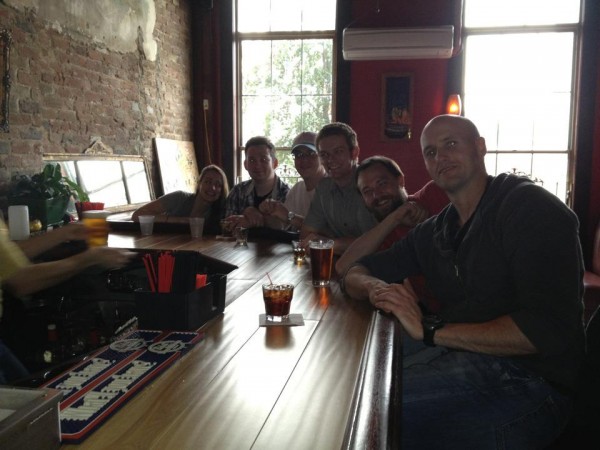 1. Magic Moment No. 1: Moving from the Zulu Parade toward the French Quarter, we, in a surprise, came upon a Mardi Gras Indian Chief and his Queen walking down the middle of Rampart Street, traffic piling up behind them as they went. Mardi Gras Indians are a rare site, and it was an extreme privilege to meet two of them, on Mardi Gras no less.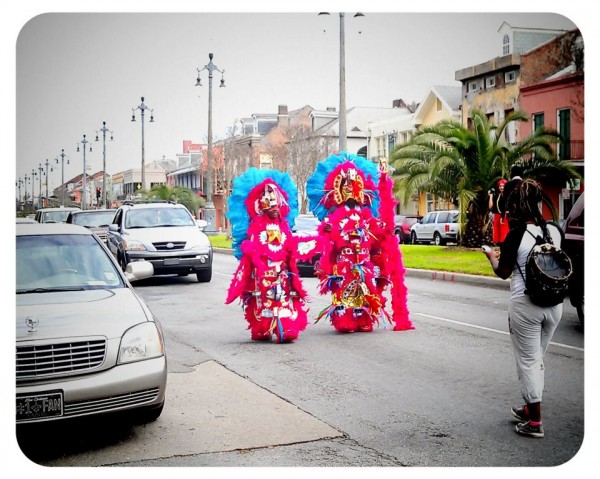 Mardi Gras 2012 in the books. New Orleans, alive. Thriving.
Won't bow. Don't know how.