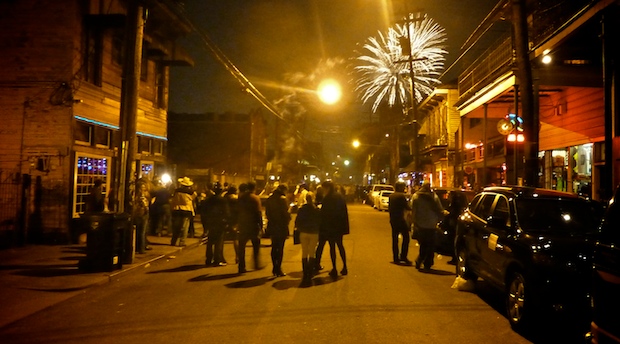 You are staying in the French Quarter? You will want to walk down Bourbon Street on your first evening in town, starting from Canal and heading to the start of the gay bars, just past Tropical Isle. Walk slowly, drink a Big Ass Beer, or better, a Hand Grenade from Tropical Isle (but drink only one). Avoid the puddles and shadier strip clubs, watch for pick pockets and don't wonder north of Dauphine Street. Duck in to the shitty karaoke bars, but don't buy drinks there. Pat O'Brien's, home of the world famous Hurricane, and, a little further back, Lafitte's Blacksmith Shop, a dark piano bar, are the best place to grab drinks on Bourbon.
Upscale Quarter restaurants include NOLA, K Paul's and Bourbon House, among others. More casual places to try include Crescent City Brewhouse (porkchops), Pierre Maspero's (fried seafood, crawfish) and Fiorella's Cafe (fried chicken). People like Acme Oyster House, though I never ate at the French Quarter location. If you want a simple coffee shop, Cafe Envie on Decatur is a regular's hangout that serves great breakfast, and stays open through the night. Also, you will want to do Cafe Du Monde once.
You will want to drink. I start off my French Quarter drinking at Molly's at the Market, on the backend of Decatur Street. This is a simple place, with a solid jukebox, good, simple New Orleans food, and cold beer. Molly's serves as a gateway to my favorite place in New Orleans, Frenchman Street, the gateway to the Fabourg Marigny. This is the block to catch live music on Friday and Saturday nights (though there are shows there all week). The half dozen clubs on this strip feature great bands and only rarely do they charge cover. D.B.A., Dragon's Den and Blue Nile are the favorite joints.
The Warehouse District is across Canal Street behind Harrah's Casino, walking distance from the Quarter. There are some fabulous restaurants and bars here, including the Circle Bar, Lucy's Retired Surfers Bar & Restaurant, Howlin' Wolf, Cochon and Emeril's original restaurant.
Take the St. Charles Ave. street car and head Uptown. This is one of the most scenic rides in the America, and dare I say, the world. Eat at the Trolley Stop Cafe for 24-7 diner food, or drink at Igor's, a few blocks from my last New Orleans apartment. Order the Bloody Mary. Audubon Park is further up the line, across from Tulane and Loyola universities. Get off the Street Car and walk around the park and Tulane.
The Riverbend is further up the line. Camilla Grill is solid, and for oysters and beer I go to Cooter Brown's, just across the street from the Mississippi River levee. Oak Street, another solid block of activity, is a few blocks away. If you arrive early enough (about 4 p.m. or so) you can get a table at Jacque-Imo's, one of my favorite restaurants in the city. Try the crawfish alligator cheese cake. Next door is the Red Maple bar, my personal favorite music club. They don't rock and roll until 11 though, so keep a taxi number handy if you do stay. If it's Tuesday, you have to stay for Rebirth Brass Band.
Take a taxi, or better, walk from St. Charles Avenue through the Garden District to Magazine Street. This is the city's boutique district. Plenty of shops, high-end food spots,and good bars including Balcony Bar and The Bulldog. There's a dirty music scene at Les Le Bon Temps Roule, though it's hard to get to at night without a car. Ms. Mae's is another wonderful, dirty bar, at the corner of Napoleon and Magazine Streets. If you're looking for non-New Orleans food, try Juan's Flying Burrito at the far end of Magazine, closer to downtown. The Half-Moon Bar & Restaurant is across the street.
Explore on your own, keeping all the precautions of big city living at hand. Take French Quarter tours, or Garden District Tours, as these are good ways to see the city. Watch Sunday's Saints game in a bar, you'll enjoy it more.