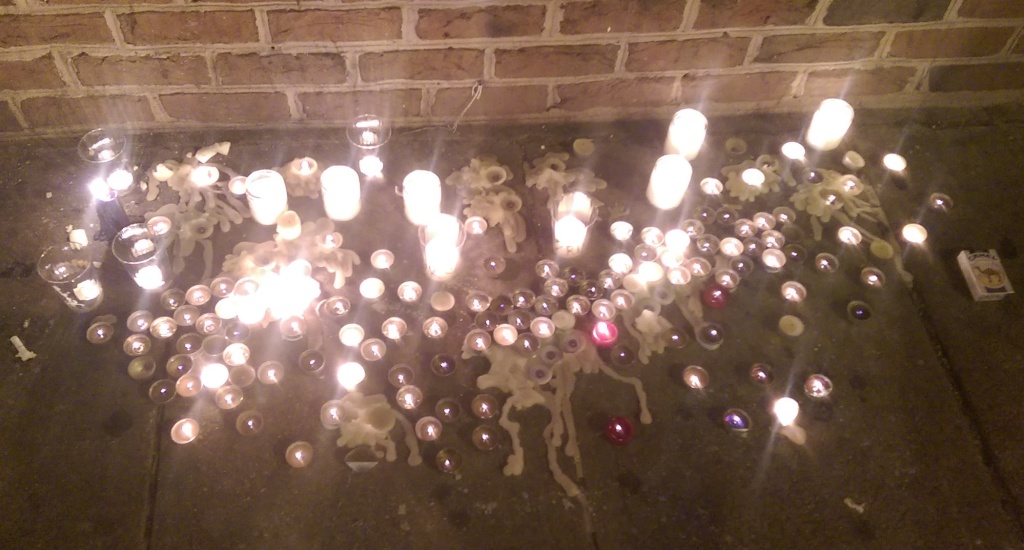 "This is where I've known people since I was a child. This is an enormous asset. I can't imagine living without this asset, of being friends with people I went to the first grade with. And we've stayed in touch, all these years. It gives your life an integrity that it otherwise might not have." – Garrison Keillor
Strange reflections during this mid-winter in Baltimore, as the darkness lingers and the chill sets in.
Holidays barreled down on the neighborhood with the ferocity of a technicolor hurricane this year. Cars continuously snaked down the Avenue, waiting in turn for a brief glimpse of Hampden's Miracle on 34th Street. We celebrated New Year's Eve at a French restaurant about three blocks up from the Christmas lights. Ate nine courses. Bone marrow butter and monkfish. Grilled duck, oysters and caviar. We drank too much, then joined a thousand others as a sparkling mirrorball dropped from a lamp post, and Baby New Year, played annually by a neighborhood Falstaff wearing a handlebar mustache and little else, sprayed champagne onto the masses. 
When I lived in New Orleans, you know my favorite thing? Over and above the sweat soaked dance parties at the Maple Leaf Bar on Oak Street, or turtle soup topped with sherry on a rainy day after gambling at the Fairgrounds? The city lived, ostensibly, on a medieval calendar. January. February. June. July. Monthly designations helped you stay employed long enough to pay for the rent and the whiskey. But it never was March or May there, not really. It was Lent. All Soul's Eve. Pentecost. Advent. A thousand Feast Days for a thousand saints.
New Orleans is complicated, like most post-industrial capitals. For us lucky ones, who didn't have to sling or pop off to make ends meet, time didn't tick away so loudly there. Shit year? No worries. It's Carnival season, and the Mardi Gras parades will be turning down St. Charles Ave. soon enough.
New Year's on 34th Street has a home on the ancient calendar. So do other events here in Charm City.
Life has been unkind to many of my friends recently. They've been soldiers, picking up the body parts —severed limbs, broken hearts— and moving forward. Passions have calcified. Life is squeezed dry from bright stars. Comfort is shredded, and those who are able hold on to their thin strands of sanity, desperately avoiding the fall into the pit below.
For others, the earth shifts ever so slightly off-kilter. One friend disappears for 15 years, and returns to find a funhouse version of what they had left behind. It's familiar, the edges are still sharp, but distortions are now present.
It's good to be young, but let's not kid ourselves,
It's better to pass through those years and come out the other side,
with our heart still beating, having stared down demons, and come back breathing.
The past isn't washed away completely. It lingers, boldly. What Faulkner said. It isn't even past.
 We lost a Good Man this winter. A lifelong friend, a brother, the son of ancient neighborhood blood. Word of his passing hit like a freight train. We held vigil in our old haunts, lit votive candles to beat back the dark. Later, we hugged the hurt, toasted liberally, found the faces of long ago children in other mourners, drank too much and stumbled home in the rain, with our navy sports coat and the alcohol our only protection from the pounding weather.
Saturday night turned to a Sunday morning coming down. Friends, family, all the faces filled the crevasses and spilt out the doors of the funeral home as we relived a Good Man's life once more. Old clans united in mourning, and the circle, once again, remained unbroken.
That afternoon, while the congregation sang final farewells, a storm rushed through the neighborhood. Winds roared, skies opened up. The earth was, for a period, righteously and understandably seething in anger.
 The rain eventually broke, though, and the sun rose and cut through the gray. In the storm's wake, a rainbow emerged, thick and bright. It soared over Baltimore, arching high above the neighborhood and the bar where a community cried one final farewell.
In the Old Testament, after the Biblical Flood, God set his rainbow in the clouds for Noah as a sign of his covenant, of his love for man. Maybe our rainbow was the sign of a new agreement, a fresh covenant, and a Good Man now has his Feast Day forever inscribed on the medieval calendar.