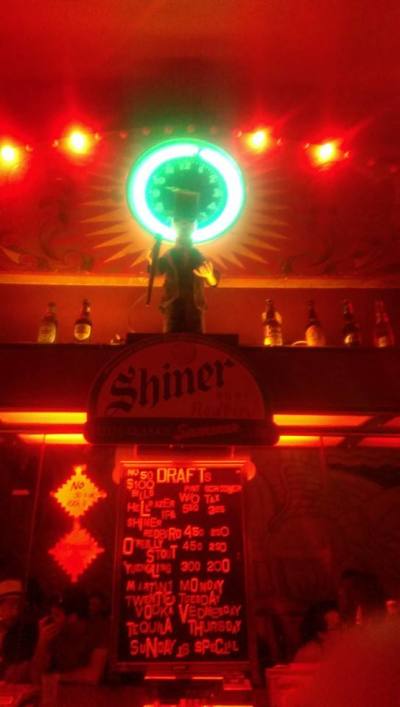 I ordered two Manhattans, both served on the rocks. One for myself, one for Sam. The bartender at Club Charles poured the drinks into water glasses. They were stiff. The bitters, bourbon and vermouth blended together pleasantly.
We deserved a drink after a long day walking through Artscape, Baltimore's premier summer festival that takes over the Mt. Vernon and Station North neighborhoods in late July. Hundreds of thousands walk Artscape's promenade over three days, sweating profusely in the unbearable Mid-Atlantic humidity while cruising pottery stands, t-shirt booths and marketing tents or watching bands perform in front of Mt. Vernon Train Station, a former B&O depot converted to a wing of the Maryland Institute College of Art. Usually Artscape is held on Baltimore's hottest day of the year, but it was glorious weather today though, and we didn't miss the sweat.
It's been a hobby for residents to shit on Artscape since its inception back in the late 1970s. No art. Crap art. Too much fried dough. Where are the oils? The watercolors? That's evolved over time. Old hippie folk never bought in. They probably shouldn't have. Authenticity should mean something to them, though they still dangle out of Mt. Royal Tavern's windows in Midtown Belvedere and drink. The youngsters, though, the art school kids and new scenesters, know a captive audience when they see one. Side festivals abound. Whartscape. Ratscape. ScapeScape. The festival proper is better now, too. Whirligigs twirl in front of MICA. More shades of white to brown to black among attendees. Foreign languages dance in the air next to the glowing ferris wheel. A rhinoceros with fairy wings stood herald at the Interstate 83 exit last time. This year, a giant flaming cockroach burned furiously at the mouth of Station North.
We find shelter from the flames at Club Chuck. Been a while since we drank here. It's dark. Good. There's a skeleton man in a top hat silhouetted by a neon wall clock standing on the mantle above the long bar. Behind us a shirtless man bursts by, clamoring for a drink and the bathroom, pushing by a bruiser in a hawaiian shirt and jean shorts who's dropping quarters in the jukebox. It's a beautiful machine, glowing burnt orange and lime green. A silhouette of a satyr playing a pan flute dances on the side. Bill Medley rises from the speakers. Patrick Swayze. Nobody puts babies in corners. Can we do the lift? I tell Sam we should try. Right here in the bar. We drink our Manhattans instead.
Audrey Hepburn walks into Club Chuck. Breakfast at Tiffany's, not My Fair Lady. I doubt she's s a call girl in this life. Sid Vicious follows her through. Skinny Sid at least. Big yellow mohawk. I think he ordered a drink but I don't care to watch. Club Chuck's lady bartenders come and go, rockabilly apparitions floating in front of the barlights and the bourbon. Freak Flags fly proudly in Charm City this day. It still lives here.
John Waters told a story once. Here, I found it: "The first time I went to a gay bar I was 17 years old. It was called the Hut and it was in Washington, D.C. Some referred to it as the Chicken Hut, and it was filled with early 1960s gay men in fluffy sweaters who cruised each other by calling table-to-table on phones provided by the bar. "I may be queer but I ain't this," I remember thinking."
I agree, John. None of us here are that, in its multitude of forms. But then what are we? What is this mass still floating out on Charles Street? What's about the groups of young African-American boys strolling by, eyeing up the females in front of a dance club across the street from my barstool? Choices they used to called the club. Now, it's Tips. Conversations float. You got a baby? Whatever. A girl in black glasses, blue hair and a maxi dress with slits cut from shoulder to ankle shakes violently. Her black gay companions shake their rumps with perscision.
They make the scene. And there are others. The denim vest set is covered in faded patches and fresh vomit. Women wear gold jewelry that stretches from their earlobes to their nostrils and back across to the cheek. There are fat mummy people, and big muscled gay men in tight shirts cruising vigorously. There are babies with mohawks. A DJ scratches mightily. Shake it what you working with.
Kinetic energy. Not exactly positive. Violent undertones. It could all burn up. One massive flaming cockroach. A gunshot. Fistfight. Carnage. But we don't. Not this hour at least. Instead, a skinny man in glasses sits at an upright piano along the Charles Street bridge and plays a duet with a young girl in a flower dress. She sings staccato notes into a dangling microphone. His fingers bounce along the ivories. A crowd stands together and absorbs the goodness.
There was this guy, earlier, still light out, sitting at the outdoor ping pong tables vendors installed in front of the Elephant mural across from Club Chuck. Man was decked out hard – fedora, a plaid shirt, black sunglasses. He brought his own paddle, held it in his hand, aloft, continuously at a 90 degree angle, waiting his turn. Ten minutes. Twenty minutes. Still held it high. Don't care. He was ready. lets play.
Back at the bar. Behind me, the Queen of Crabs orders a whiskey and coke. Anyways, that's what the red and silver sparkling beauty pageant sash draped across his shoulders reads. God save our queen in the bowler hat, suit and goatee. I order a beer and a shot from the waitress.
The shirtless man from before thanks the crowd as he passes behind Sam and I, headed back out into the warm Baltimore evening. He wanted to acknowledge everyone for their help, whatever that might have been. Bartenders. Random patrons. I slap him high five. Glad to assist.
Later, two women, standing behind Sam and I, order drinks. One, to the other: "Oh my god, I love how sketchy this bar is."
The other: "Oh, I know it is always like something is about to happen."
This bar? Sketchy? It's ok. This city? Thank fucking god.