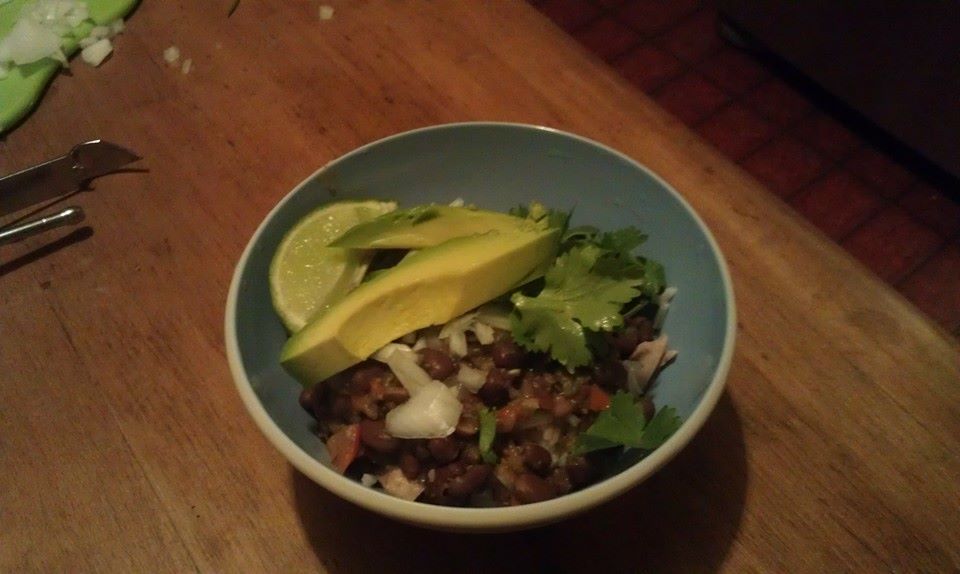 One in an occasional series on adventures in cooking 
It's January, a massive cold front blowing down from the arctic, and our fair Charm City is about to endure single digit temperatures. So how bout a big bowl of black beans to keep you warm in the night?Yeah?
Oh, okay.
Well, at the very least, beans are important for my family in January. The Gonzales, my mother's side, traditionally cooked them on New Year's Day. Ideally eating beans was supposed to bring good luck for the coming year, while practically, beans were all that was left in the pantry after all the meats and baked goods were gobbled up during the Christmas holiday. So, to honor my ancestors, I thought I'd try my hand at Cuban Black Beans, a thick, almost-soup like dish served over rice. Additionally, I had a few turkey legs in the fridge, so we roasted them and added the meat for a little lagniappe.
Cuban Black Beans w/ Roast Turkey
1 Meat of Turkey Leg
3 Cans Black Beans ( or a bag soaked overnight, either or is fine)
1 Tablespoon Oregano
1 Tablespoon Cumin
2 Bay Leaves
1 chili, jalapeno or serrano
1 red pepper, chopped big
1 green pepper, chopped big
1 white onion, chopped big
6 cloves garlic
olive oil
Juice of 2 limes
Cup of white rice
cilantro
1. For the Turkey leg, roast in the oven overtop carrots, celery, red onion, rosemary, thyme and chicken broth for 1:45 on 375 degrees. Try to cook more than one, since you can use the strained broth, extra meat and bones for soup later. [NOTE: This is my own added luxury. The beans will be fine without it].
2. Drain the juice from three cans of black beans (unless you want to poot all night, then by all means keep it). Add enough water to cover the beans plus another two inches on top.
3. Add oregano, cumin, bay leaves and the chili cut in half, deveined and deseeded. Bring the beans to boil and then simmer about 40-45 minutes.
4. While beans are simmering, splash olive oil into a separate pot or frying pan. Once heated, throw in the chopped white onion, green pepper and red pepper and cook down until translucent, which should be around 10 minutes. Smash the garlic and add it to the veggies at the very end.
5. If your veggies are in a pot, drop in an immersion blender and whip them up, otherwise pour them into a traditional blender. You're making a base sofrito, a vegetable-type binder for the beans that's somewhat similar to the Trinity in Cajun cooking, but more salsa-like (apparently you can buy jars online From AmigoFoods.com??).
6. Remove the chili from the beans. Or don't, if you like it hot. Pour the sofrito into the beans, along with a splash of olive oil and the juice of two limes (which seemed more authentic than straight vinegar, though a sherry vinegar could do as well).
7. Let the beans cook for another hour or so. Toward the end, use a big spoon and smash a small portion of the beans against side of the pot to help thicken. Hitting it with an immersion blender lightly (key word lightly, not making black bean soup here) will also work. Beans are ready to serve when broth is thick.
8. Cut the meat off the roasted turkey leg and place it on top of cooked white rice. Scoop beans and place overtop of the rice and turkey. Garnish with white onion, cilantro, avocado and lime wedges.