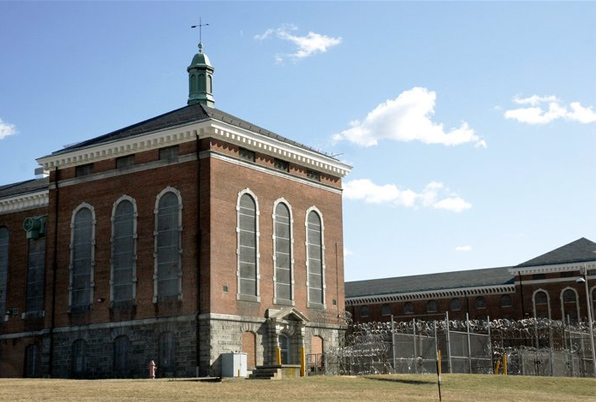 Historic US Route 1 intersects Jessup, Maryland about mid-way up the Mid-Atlantic. It's a small community located on the border between western Anne Arundel and Howard counties in the central part of the state, and known both regionally and nationally as the home of the state's House of Corrections prison. Built in 1879, 'The Cut', the facility's omonimous nickname, has housed generations of the state's thieves, murderers, drug dealers and gang leaders, most of which were shipped down from nearby Baltimore. Though touted as a state-of-the-art facility in the 19th century, the Cut continued to hold prisoners well past its sell-by date, with administrators stuffing tens of dozens of men into its grim cellblocks. In 2007, Governor Martin O'Malley finally closed the facility, after an inmate murdered a prison guard. 
The acres surrounding The Cut were all farmland at one time; the hills were covered in peach and apple orchards, the fields filled with cantaloupes, watermelon, squash and beefsteak tomatoes. For decades the bounty was so big, truck farmers shipped in Eastern European immigrants from South Baltimore to pick the harvest, which was then canned and shipped to America. As is our country's want, the fields have been plowed and the orchards mowed down, replaced by business parks, strip malls, gasoline stations and track townhouses. A large El Salvadorian community has moved in to the area, and when you drive Route 1 you pass roadside taco stands billowing barbeque smoke, where the new proprietors cut up barbacoa, lengua and pollo, stuff it into corn tortillas, dress them with onions and cilantro and serve them to tired looking El Salvadorean construction workers who pile out of pickup trucks every few minutes. Most of these men work right on the interstate, building the future.
Among the older Route 1 landmarks —the buildings that point to the area's farm and prison roots and not to the burgeoning exurb of D.C. and Baltimore that it has become—Trinity Episcopal Church stands out. The old tudor building is located on a lovely patch of green fields and oak trees, next to a Latino Flea Market on the West and a car garage to the East. Its location on the highway was a selling point, and it eventually earned the nickname Trinity On the Pike, going back to before the Civil War. White clapboard and cedar shingles cover the octagonal chapel, and there's a castle parapet, King Arthur style, that sits atop the church's old reception hall.
The parapet is actually a new addition, built in the early 2000s to model the chapel. My grandmother, Sarah Shannon, who had attended Trinity since she was 16 years old, helped finance that addition. The new wing also includes offices, a Sunday school and an interior connecting hallway. Assumingly, when my grandmother helped design the wing, they decided not to include a line item for an AVAC unit. This makes perfect sense, of course, since Anne Arundel is brutally humid in the summer and, really, what room full of mostly elderly people would want cold air? Though maybe, as the church's population has dwindled over time, they never expected more than a few elderly people to congregated in the space to talk and drink coffee.
————————————

On the first Sunday in September of 2013, the temperature in Trinity's reception hall checked in at 95 degrees. Its Mid-Atlantic bosom buddy, oppressive humidity, accompanied the heat. Despite the conditions, though, over 200 people packed themselves into Trinity, and were mostly cheerful. They sucked it up; it was Grandmother Shannon's 90th birthday and she wanted it held in the church's reception hall, the space she helped build. Since she was covering the tab, and since we all love and respect her too, we partied in our sweat.
My grandmother's birthday is in early December, but since she's a Florida snowbird, she decided to hold it a few months before heading back to Sarasota (and really, at 90, what's a few months?). Most of the family who attended were local Marylanders, but the distant relatives made their way to town too. My brother flew in from Chicago. Uncle G.P. made the trip fresh from a new 800-acre farm he bought in northern Michigan. Cousins were aplenty — Shannon, her husband Julian, their son Hudson and the twins Gareth and Granger, from New York; Larissa and Ryan and their children from Northeast Maryland; Chris and his wife Ermila made the trip from Dallas. My uncle Bob Bulawka, married to my dad's sister Aunt Connie, and his Ukrainian wing attended, as did the distant Shannons, kin on my grandfather's side, hailing from various Southern outposts—Richmond, Chesapeake, Chattanooga, Atlanta, Texas. The Shannon men, incidentally, wore button-down shirts and ties, and the older men donned blue or tan jackets. The Southern Shannons all have wonderful Old South names like Spike and Preston and Gene Ward, and talk in wispy draws.
Old Jessup, the farm and prison people, filled the rest of the room. They sat around card tables or in lines of folding chairs, talked about Ms. Sarah and the town, ate cocktail shrimp and meatballs served by catering staff in black bowties and tried to ignore the brutal weather. Many were grandma's contemporaries, elderly friends and neighbors. Some were old civic soldiers, victims of old battles over zoning changes and property uses issues. Middle-aged couples who were her students when she taught 6th grade at the local school were also there, as well as representatives of the small, local African-American community, Georgetown, a stretch of segregated black housing not far from my grandmother's house at Trusty Friend Farms. Many of their fathers and grandfathers worked the old family land.
Grandma grew up not far from Trinity. Her father, Arthur Brown, a World War I veteran who lost part of his hand in France, and mother, Sarah Francis Waters, a homemaker, owned a motor lodge and tavern, called the Three 9s, feeding and housing travelers on their way to and from D.C., Baltimore and points beyond—a developer bought and tore down the lodge just a few years ago to build hundreds of prefab houses for the region's growing population. Her mother's family farm, Trusty Friend, was located on the other side of time. Grandma raised four children at Trinity and saw multiple grandchildren, including myself, baptized there.
The day moved briskly. Anne Arundel County politicians showered grandmother with proclamations, while friends shared stories about how she inspired them as students or how she congenially fought against them at political meetings or worked together with her to develop new a new business park. One former student, Roxie remembered how, as one of the first African-Americans to integrate Jessup Elementary, Mrs. Sarah helped her fend off the racist bullies who tried to intimidate her when she first started at the school. My grandmother, ever the practical political activist, didn't know how much she helped Roxie and said she just didn't like to see bullying under her watch.
Georgie Jessup, a local musician who worked as the party's de facto MC, also shared her memories. Georgie used to be Wayne Muller, my dad's best friend. As a kid we'd visit Wayne at his beachfront house in Dewey, Delaware, where he and dad and the old hippies would play music and try to relive their youth. Wayne was a woman on the inside though, so eventually he underwent a full sex change and adopted his hometown as his surname for stage performances. My grandmother, a staunch conservative and Republican, always liked Wayne and continued to like Georgie. Leeway in one's beliefs is easy enough when you know your friends intimately, and these were my grandmother's people.
—————————-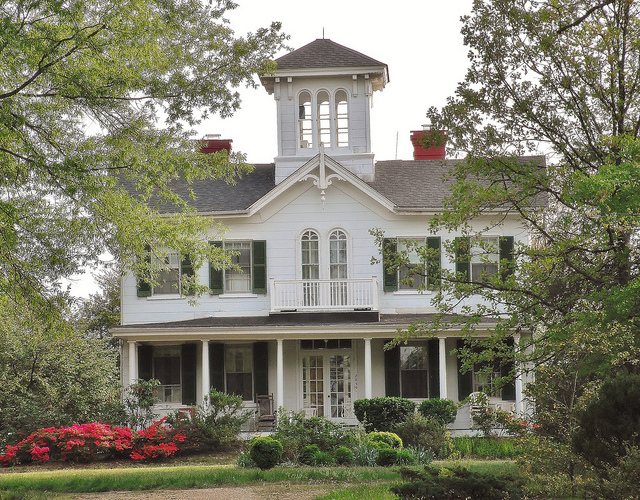 Up until she started snowbirding to Sarasota, my grandmother, along with various aunts, uncles and cousins, lived at Trusty Friend, a three-story farmhouse not far from Route 1 on Interstate 175. Built in 1860, Trusty Friend served as the homestead for a 200-acre farm started by Amos Clark, a family ancestor. The house, distinguishable by its ornate cupola, sits about 100 yards off the road, surrounded by a grove of white oak, pines and magnolias. Squirrels, rabbits, groundhogs and the occasional deer breathe life into the greenery. We'd visit often as kids, and lean against the thick front porch columns and count cars passing on the highway or watch thunderstorms roll in.
When grandmother was young she used to visit her own grandparents, the Clarks, at Trusty Friends. Later in her life, when the Clarks were too old to run the farm, they turned over operations to a pair of uncles who didn't have a mind for business. Failures as farmers, the uncles planned to sell the entire property, including the old farm furniture, and put her grandparents out into the street.
Grandma's father, great grandaddy Brown, wasn't a blood relative to the Clarks, but he had a head for business and a love of family. He picked up the mortgage, leveraging his motor lodge and tavern business, and eventually put the farm on a stronger financial footing moving forward. However, my grandmother could never forgot that image or her grandparents —on the verge of homelessness, with no means to defend themselves. She promised she would never in her life let herself be put in that precarious position, and up until her last day she kept to that promise. Trusty Friend in part helped provide that piece of mind; in the late 1980s she sold all but 26 front acres for development.
Grandma Shannon passed away quietly in late November, still stout of mind into her last hours. She didn't want a big fuss for her funeral, so only a handful of family and close friends gathered at the Warfield Cemetery, located at nearby Ft. Meade military base, which was once part of the family farm, to pay final respects. She was cremated and laid in a concrete square next to my grandfather Dr. William Shannon —his ashes interned back in 2003 in a cut-glass whiskey bottle and surrounded by booze miniatures, cigarettes and salted peanuts— underneath a concrete obelisk tombstone that my grandmother had erected in the late 90s.
Worried about potential tax pitfalls and family squabbles, grandmother set about to sell the rest of Trusty Friend in the last years of her life. She succeeded, and if everything continues to move forward, the farmhouse will be the central piece of a large housing and retail development that will feed off the nearby Arundel Mills mall and casino and Fort Meade. Hopefully the new owners will keep the cupola up, along with the old oaks and pines. Maybe the El Salvadoran construction crews will work on the new projecte, and I'll be able to order two tacos barbacoa from a small latina family working behind a bellowing grill, and then sit on the old front porch and eat, watch the cars pass on the highway and wait for the thunderstorms to roll in. Or maybe the highways will be the last ribbon connecting us to our past.