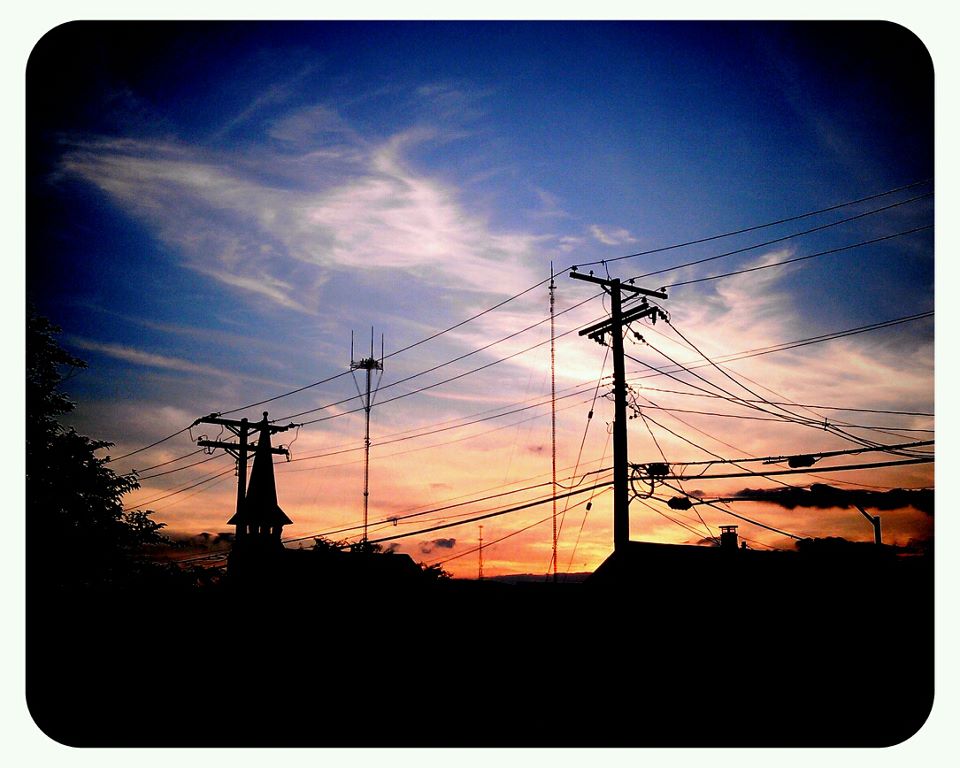 The shucker stacked the opened oysters on top of a bed of cracked ice, piled up on a folding table set up on the corner of Elm Street and the Avenue. He served three different types —Choptanks and Delaware Bays, which were salty, and Chesapeakes, which featured a clean aftertaste. I ordered a half dozen for six dollars, placed a mix on a paper plate and added horseradish cocktail sauce to each. It was a beautiful Friday evening in September and the neighborhood bustled with shoppers and couples looking to make their dinner reservations.
Samantha and I took our plates inside The Other Corner, a newly renovated bar for the main anchor Corner BYOB, the Belgium restaurant that sponsored the happy hour oysters as part of our neighborhood's First Friday's business celebration. The Other Corner was in a space the size of a lawnmower shed, with a few tables set up to the left and a long bar on the right. Bernard, the Corner's balding, bespectacled owner and chef de cuisine, sat at the bar's far end, thumbing through his financials. On the back wall , there was a freshly painted mural of a deranged monkey holding a banana.
Before the Corner, this space was home to the Elm Avenue Social Club,  where old Hampdenites played pool and drank beer after hours. I never made it inside but I knew a waitress with curly black hair who learned how to hustle eight ball as an EASC member, in between pulling tables and her writing career (she liked to write metaphysical literature, about dreamscapes and space time, if I remember the conversation correctly). The Corner restaurant itself used to be a greasy spoon diner called the Roland Restaurant, which served two egg breakfasts and tuna melts to the elderly and drunks, another lifetime ago.
We drank Estaminet Premium Pilsner, a Belgian import they served on tap alongside our oysters, and then continued to walk the Avenue. First Fridays means businesses stay open late, hand out free alcohol and offer 20 percent off sales. At Double Dutch, a women's boutique Sam is fond of, I drank chardonnay while she tried on a winter coat with a Southwestern pattern from BB Dakota designers. She liked it but didn't buy it, so we moved on. At Hunting Ground, a curated vintage clothier, Sam flipped through the sweaters on the sales rack while I cracked a cold Natty Boh. Nothing interested her (except maybe the white leather jacket with fringe) so we moved on. A new ceramics gallery in the middle of the block held a grand opening party, so we drank red wine and marveled at the green matte finish on the collective's clayworks.
Back on the Avenue we  we passed tables filled with couples eating dinners, while young locals —girls in tight summer shorts and tops, boys in baggy jorts and big t-shirts—walked by pushing baby strollers.  The neighborhood's has bristled lately with this traditional culture clash —a few days prior we watched a group of idle local teens call a hipster in a porkpie hat and high-top shoes "faggot" as he briskly walked by—but tonight everyone flowed pleasantly enough together. Summer was fading over everyone here, and a fall cool moved in over the Avenue.
We headed toward Grano Emporium, a fine Italian restaurant on Chestnut Avenue, to meet my parents and brother for dinner. As we walked we passed three men standing behind a graffiti-covered van parked in an alley next to a 7-11. One man was shirtless and drank from a small metal whiskey flask. As we passed by he ran up to us and shouted, his words a little slurred in his speech.
"Hey man, I don't want no money or nothing," he said. "But I wanted to ask you. How old do you think I am?"
We eyeballed him. He was stout and muscular except for a small protruding pot belly. His face was rought but physically he was otherwise well built.
I guessed 40. He grabbed my hand. "Thank you for that. But I'm 50. Can you believe that. My name is Mark." He stepped back from us. "Now," he said, "how many 50 year olds can do this?"
Mark stiffened his protruding belly and formed tight six pack stomach. "Look at that. Now, keep watching." He pulled in his stomach even further, and they collapsed into his core. He ungulated his muscles so that they rolled widely from left to right, like waking water behind a speedboat. "I don't know if you ever saw, but you can look me up on the Jerry Springer archives, they got me doing it on there," he said proudly.
Then, Mark stopped moving his stomach, and pushed on with his routine. "Let me see your teeth," he said , so I smiled at him. He asked me to pull down my lower lip, and then he shook his head sadly at me. "That's no good man," said Mark. "You got them all." He pulled down his lower lip. He was missing his lower from tooth. "Mind if I have one?"
He chuckled at his own joke. "That's all that's gone. One tooth," He said, then proudly unfurled his bicep. Thick veins coiled down his forearm. "Look, 50 years and no track marks. I never did heroin. I stayed fit. And the neighborhood, look how its doing so well." He paused. "Where you from?"
"I grew up here, up on Roland Avenue." He eyeballed me, surprised by the answer, and then asked for my last name. "You wouldn't know it," I said. "I'm not one of the old families." Mark pointed to his forehead. "You were one of the smart ones." I nodded. Sure.
He shook my hand again to say goodbye, but before he let go he leaned in to my left ear so Sam couldn't hear. "You know what's hard though," he whispered. "There's no more hookers on the Avenue anymore. I can't make money liked I used to no more."
Noticing his friends by the van were gone, Mark said goodbye and stumbled up the block. He stopped right before he reached the alley, then turned around back to us.
"Marry that girl," he shouted.
"Sure thing," I said, then checked the time on my phone. We still had reservations to make.
(Photo By Samantha Armacost)