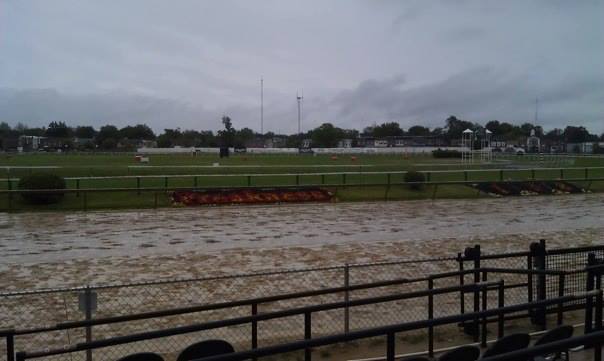 A light drizzle falls on Pimlico Racecourse, on the second to last day of the track's spring season. Large globs of dirt collect under the hooves of the trotter horses as they wait for the racers just outside the paddock. Elderly men hide from the weather under a concrete partition that extends from Pimlico's clubhouse restaurant. They keep dry and wait for the next race, passing the time smoking cigarettes and assembling bet combinations together. Working class mathematicians breaking down calculus equations. I'm sure there were more of them at one time, men in fedoras and suit jackets, with fresh pints of Pikesville rye wrapped in a page from the Daily Racing Forum, jammed into their back pockets. Mostly, they are old or dead now.
I don't know much about the horse track. I understand the essence of betting, how to box up an exacta. Small maneuvers. I've heard a few tales, know a few people who understand the game more succinctly. At a Baltimore's speakers engagement, a retired Sun sportswriter talked about the day he won $300,000 at the track rolling through a successful pick-six. They gave him his winnings in two sacks. He bought a farm in the country, then lost it later in a divorce. Bit by the long con. More recently, my friend Joe had established a successful betting chart for Pimlico and Laurel horses. Then, a case of equine syphilis wrecked his equations. He moved on to Ebay scams.
Crowds at Pimlico are rare. The Preakness Stakes, held in mid-May, sells out —sundresses and suits in the grandstands, drunks passed out in the infield— and covers the Maryland Jockey Club's costs for the year. On this cloudy, downcast Friday, though, the track is sprinkled with just a handful of regulars — poor people from the surrounding neighborhoods, shift workers, union men killing time waiting for their next contract, elderly citizens dropping their pensions. I sip coffee at an elbow-high table, plan my day. Tomorrow is the Belmont, and most of the hardcores are betting the simulcast Friday races from New York in between Baltimore runs. I decide to stick to the local ponies. My first two bets —$2 exactas— are duds. I order a hotdog, make more bets, lose more money.
For the fifth race I decide to change tactics and attempt a win/place/show bet. I misinterpret the electronic key pad on the self-betting machine though and accidentally make a $18 gamble across three horses. My goal was to spend less than $20 on the day in total. Though not exactly rent money, I start to sweat a bit. Being down $40 (along with my previous loses) heading into a weekend would hurt.
I post up underneath the protective concrete. Drizzle is now rain. The trotters load the horses into the starting gate. Dark, low-hanging clouds turn somersaults over the field before darting off toward the giant metal Television Hill towers. A row of dilapidated row houses sag heavy on the far side of the track. The horn goes, and the horses are off.
Mud flies. Men shout. I squeeze my ticket as the ponys turn the corner for the stretch. Then, in an instant, all three of my horses cross. They are not in the order I had originally selected them in. I don't know what this means. Back inside the clubhouse, I slip my ticket into the electronic better. It takes a minute to tabulate, and then it spits the results back at me: Winners Total $19.90.
Relieved, I sit outside in a folding chair. My breath is deep. Pushing by, a Pimlico janitor sweeps up losing tickets while a friend in military camouflage shorts argues about the differences between a SuperMax and UltraMax prison. A skinny old man in a hawaiian shirt sits down next to me and tokes on a cigar. He shares a story with another regular, who seems hard of hearing. Drug-dealing neighbor choked the shit out of a scam artist out front of his apartment complex in Park Heights, says the Hawaiian. Didn't pay any mind. Probably just business.
He laughs. A guttural cough follows. Smoke drifts from his mouth into the damp air. Around us, the rain continues to fall.