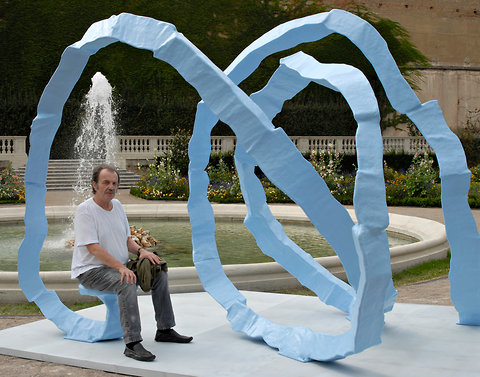 Austrian artist Franz West passed away last week, at the age of 65. A talented sculpture, satirist, performance artist and jokester, West's work made its way a Baltimore a few years ago for an exhibit at the Baltimore Museum of Art. I wrote a personal review of it at the time. I republish it here. 
Franz West must be a hoot to hangout with. It'd be a day full of dirty stories, maybe a little boozing, some stupid insider jokes that you'd couldn't help but laugh at weeks later. There would be grown men vamping it out, plaster constructs propped on their heads like carnival crowns. Shit would get unreal quickly.
That's the impression that resonates after visiting the Baltimore Museum of Art's current exhibit of the Austrian artist's work, "To Build A House You Start with the Roof: Franz West 1972-2008." Interactive, artistically egotistical and Fruedian in a subversively delightful way (Dick jokes. We're talking lots of dick jokes.), "To Build a House" provides a succinct tour of Franz's work and the ideas that lie within, focusing on a philosophy that shuns the studious, hands-off decorum of the art museum in favor of playful thought and interaction.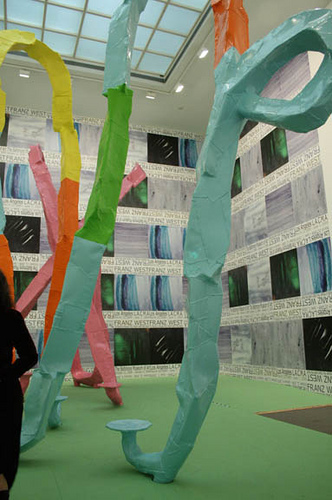 The exhibit opens with a visual KO; two massive, twisting aluminum obelisks titled "The Id and the Ego." They're the most impressive exhibits, both in size and in message.They are also the most interactive. Enjoy sitting on the attached stools and fondling materials. Also, don't miss out on spying on fellow patrons (especially the older, fuddy-duddy museum goers) as they nervously break the cardinal sin of museum-going by fondling the hardware.
From there, the exhibition examines West's trademark work, the Adaptives; crafted geometrical shapes, made mostly of plaster or Paper Mache, constructed specifically for people to play with. West's older Adaptives from the '70s are on display, though are now too brittle to use. For the current visitor there are fresh Adaptives to handle. There's also a handmade booth, covered in copies of the vaunted Baltimore Examiner, where patrons can practice their own performance art, out of view of the peeping eyes of other patrons.
How do you use an Adaptive? If you've ever watched "Whose Line Is it Anyways" specifically the "Props" skit, you're ahead of the curve. There's a wonderful film of West and friends using the adaptives, mostly as physical extensions of their own physiques. Ever better, photographs by Friedl Kubelka, an English photographer and friend of West, show the old '70s gang (Otto Kobalek and Hermann Scherer among them) using Adaptives in wonderfully whimsical ways, wearing them as tutus to walking around with them as dance partners. Kubelka's portrait of West, in rock star pose astride a giant plaster guitar, captures the man's ego and humor, while also serving as the visual sentinel for the exhibition.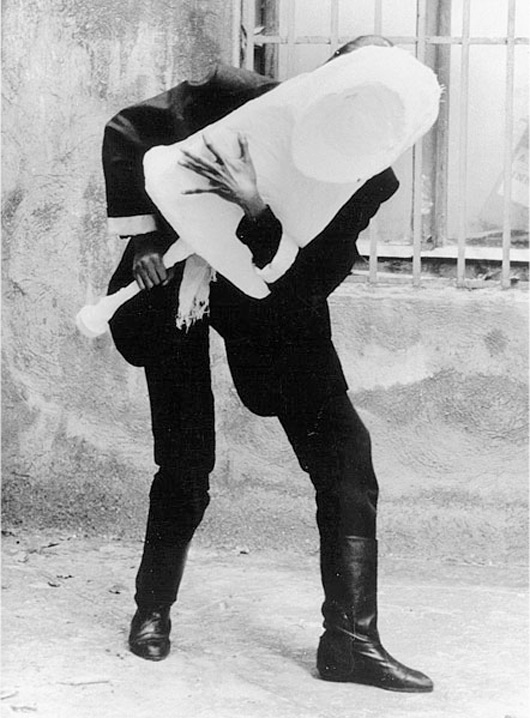 West believes in "art through the posterior", and there are plenty of pieces to kickback on, from a set of chairs underneath one of his "illuminations" (geometrical shapes pulsing neon) to a pair of upholstered couches and a printed psychologists' lounger at the end of the show. Along the way there are examples of West's provocative poster work (which uses newspaper and magazines as a medium, and where said dick jokes are in vogue) and Paper Mache sculptures (a favorite of which are the 'Lemur Heads', which are described as 'hangover induced ambitions').
Art can be thoughtful, and it can also be dirty and playful. "To Build a House" rekindles that concept. And anyone who can find art in my ass should rank high among men.