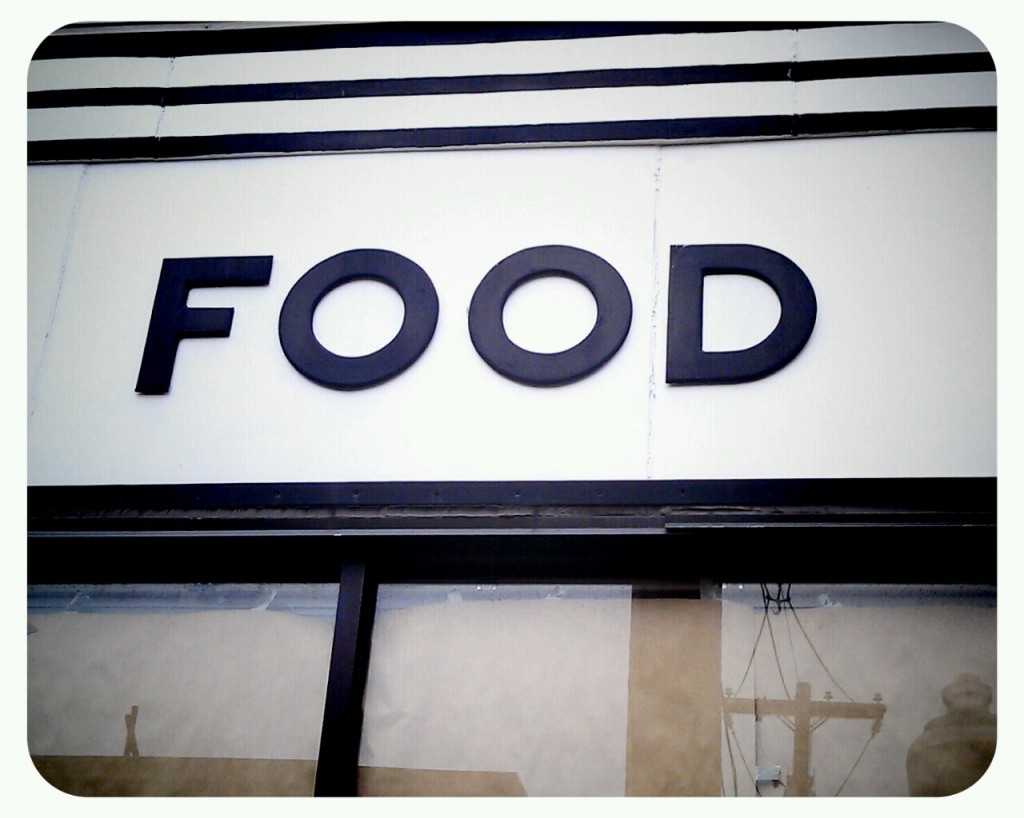 Sundays are apparently quiet affairs at the Food Market. In the evenings, the new Hampden restaurant's amenities include valet parking, late night tapas, craft beer, and, on weekend nights, a 45 minute waiting list. Walking by the glass windows after work, the Brooklyn-inspired bar is perpetually stuffed with well dressed, good looking people.
This morning, though, the tables at the bistro were just mostly full. There were half a dozen babies about. Next to us, a foursome of spiked-haired middle-aged gay men snapped couples' pictures with their smart phones. Crowd noise rose to an intense murmur, but never to an obnoxious level. The sun cut through the front windows over the black tables, steel chairs and white-painted walls.
The Food Market is the latest entry in Hampden's exploding high-end bistro scene, proceeded by Avenue hotspots Grano Imperio, Corner BYOB and Alchemy. Opened by former City Cafe executive chef Chad Gauss, The Food Market occupies the space of an old independent grocery store, aptly named Hampden Food Market. Known for it's distinctive black and white Art Deco sign, Hampden Food Market was, for a long time, a place locals could buy milk, or a lottery ticket, or a six pack of beer on the way home. Moms could send their 12-year olds there with a note to buy cigarettes and not get in trouble. The market starred briefly in the 1998 John Waters movie "Pecker," in a scene where actor Edward Furlong, starring in the title role, and Brendan Sexton III, as his best friend, Matt, sneak obscene items — a box of tampons, a penis-shaped zucchini— into shoppers' grocery carts, leading to an ensuing ruckus. In its later, sadder days, once Royal Farms started to dominate the market share, the Hampden Food Market survived mostly as a defacto liquor store.
Sunday Brunch at the Food Market was surprisingly excellent. Samantha enjoyed the Light Breakfast, which featured one pancake, greek yogurt with fresh fruit and granola and grapefruit brûleé. I had the fried porkchop with scrambled eggs and jalapeno and cheddar grits. For a cocktail, Sam enjoyed a Twist and Shout, featuring top-shelf vodka and fresh raspberries and lemon. I drank a Pimlico Old Boy, the Food Market's take on a mint julep. They served it with fresh crushed ice, and the mint blended well with the bourbon.
Stuffed, Sam and I decided to walk off the food and maybe head over to the new thrift ship Hunting Grounds, which opened recently in a dormant Methodist church.
Zissimos Bar, the congenital gin joint that has both feet firmly planted in Hampden's working class past, is located two doors down from The Food Market. Out front, a man sat quietly in a wheel chair, smoking a cigarette. He had no legs. A thick red scab cut down the split in his long, greased black hair. As we passed, he began to nod off in his chair, induced partly by the sun, and by his morning liquor. His eyes closed slowly, and the cigarette burned to ash in his hand.
Down the Avenue, a repetitive 'thwack' came into focus. A cream sedan passed by, headed toward the intersection of Falls Road and 36th Street. The car's back left tire was flat, and as it drove by the deflated rubber flapped loudly, the sound echoing off the brick shops. The driver, a neighborhood native in his mid-20s, pushed onward down the street, his features hidden behind a matte black baseball cap. He wore a black t-shirt and his left arm was covered in a colorful tattoo sleeve.
Three hipsters, walking by, called out to him. "You got a flat tire!"
"Damn? no way! ," he said, his sarcasm evident, his accent Baltimore thick.
"Do you need help?," the female of the trio, a tanned girl in a green top and short-shorts, asked. "I have some equipment at my house up the road."
The driver thanked her but told them he'd take care of his own affairs. The hipsters waved goodbye. The driver turned up Falls Road, his flat tire whipping hard on the asphalt.
Photo Courtesy of BMore Type