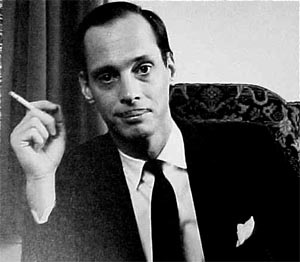 "I hate to think about it – what will happen when Johnny Mathis and I die? Who will guard my humble tawdry belongings? – John Waters, "Role Models"
I, too, wonder how Baltimore will react when one of its favorite sons, John Waters, goes six-feet under? What will that landscape look like when our Father of Filth makes his way to the great beyond?
Will there be bus tours parked outside Harborplace advertising the ultimate 24-stop Johns Waters Trolley Tour experience? Will there be an ancient Baltimorean attempting full Waters costume, but finishing somewhere between junkie Vincent Price and Zombie Prince, leading the tour?
They will have to go by the 2 O'Clock Club, of course, where John Waters and Divine would skip school to watch Zorro, the lesbian stripper who resembled Johnny Cash, berating her heterosexual customers, who would cheer after every derogatory comment thrown their way.
Then up to Hampden for drinks with the wigger gangsters and alcoholic derelicts at Dimitri's and the Bloody Bucket, down in the holler by the Jones Falls. Then maybe out to Bengie's Drive-In in Essex, home of the area's lone upright women's urinal. Hopefully, the neighbors in Hamilton will replant the penis topiary from "A Dirty Shame" for this tour, so the school bus (it'll have to be a school bus) can pass by on its way to the cemetery in Towson where Waters and friends, the Dreamlanders, have chosen as their final resting place.
Will there be a whole phalanx of barstools, from Mt. Vernon to Fell's Point to Lauraville, adorned with small brass markers indicating John Waters Drank Here, circa 19-something or other? Of course there will be. But, these stools will only be worth sitting in if they are positioned next to an unemployed rummy who can regal the tourists with tales of high times slamming back gin with "that crazy queer."
Will I be able to buy a John Waters t-shirt at the Club Charles, adorned with his smiling mug, like the Hemingway shirts from Sloppy Joe's in Key West? Wait, better yet, we could make parodies using already familiar local icons. I'd be first in line to purchase a John Waters/Mr. Boh hybrid t-shirt. All you have to do is replace the 1890s handlebar with his trademark pencil-thin. How have young moguls not tackled this one already?
The city would have to host a yearly festival on the anniversary of his death. What would we call it? WatersFest? Beh. John Water's Dreamlanders Carnival? Sounds better, but maybe still not there. Send suggestions, we have time to get this right!
The logical place would be to host it at Station North, so of course we can't do that. No, it would have to be right in the middle of the Inner Harbor. Nothing like an army of portly, sweaty men dressed in various stages of Divine to keep the downtown tourist dollars flowing in.
Or maybe hold it a block away form Hampden's The Avenue the same weekend as HonFest. It will be the Anti-Hon Festival, complete with a Hun barbarian invasion against those who trod on the images of our grandmothers of yore up on 36th Street. I've already started sharpening my wooden stake and have begun sewing my barbarian loin cloth Don't be left out!
Oh, the events this Waters celebration would host! Guess That Odorama. The Edith Massey Essay Competition. The 24-Minute Movie Festival, where everyone fails and its nothing but empty roles of 16 mm film. A competitive shit-eating contest!
The day would end with a Mr./Ms. John Waters Beauty Pageant. Waters wannabees from all the lower 48 and around the world would descend on the city, waiting to undergo a judges inspection that would rival those performed at the New York Kennel Club Dog Show (better not be neutered!). Is that mustache real or penciled in? Is that oil or cornstarch in your hair? Of course, a lesbian dressed in perfect John Waters drag, complete with a yes-thats-real-hair pencil thin, would win (their record, according to Waters, is already impeccable on the college Waters-Lookalike circuit).
Winning The Mr./Ms. Waters Pageant would be no one-day victory either. Like the Queen Hon from Honfest, there would be royal obligations to fulfill through the calendar year; A hosting gig for the night of 1,000 Elvises at the Lithuanian Hall. Regular appearances at Dundalk's finest karaoke nights Sneak attacks on all the city's other traditional parades. How would the Royal Hibernians handle a lesbian-as-Waters riding atop a Hearse, breasts exposed, hair slicked back, screaming how the potato famine was God's Divine inspiration, bursting into the middle of the city's St. Parick's Day Parade I wonder?
Will Waters' house turn into Baltimore's own Graceland? Will there be a summer outdoor movie series held in his honor, featuring his entire catalog, with a 15-foot high anus singing "Papa Om Mow Mow" projected on the city's World Trade Center? Will the mayor order that Waters' remains lie in-state at City Hall? Lord, I hope so, just to see the reactions to mourners as they explain why their trying to bring feces into the heart of Baltimore's political engine.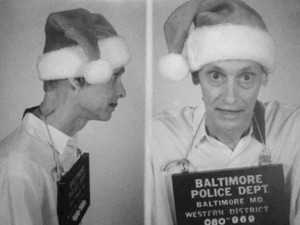 Why does a world without Waters vex me? They are, in this case, a natural extension of thought after reading "Role Models," a recently published collection of essays spotlighting people who've inspired the film director in his life and career, be they intimate friends or icons who he admired from afar.
These models range from the aforementioned Mathis to Tennessee Williams, to more obscure figures like pornographer Bobby Garcia and former Manson Family Member Leslie Van Houten. The essays, especially those originally written for the book (some come from his back catalog of previously published magazine and feature stories).
Waters, now in his mid-60s, doesn't just heap praise on his heroes in "Role Models", though there is plenty of appropriate gushing over those who have influenced him. In many of his essays, he forces himself to dig deeper and learn more about his subjects, and challenge his own, youthful presumptions of just who these icons were and became when they entered his life.
He hits pay dirt most of the time. "Baltimore Heroes", which features the story of Zorro the stripper, serves as a prime example.
Real name Sheila Bowater, Lady Zorro earned the moniker after the Baltimore Block strip club owners she worked for made her wear a black face mask to hide her more butch features on stage (Though, to be honest, she's sporting a fantastic bod in her 60's era publicity photo. The photo paired with her candid nudie, a shot of a decrepit Zorro smoking crack from a soda can, helps curb any further titillation). Waters carried his early memories of Zorro, from his trips to The Block, through his life and eventually used a facsimile in the movie "Pecker" (how a strip club opened in Hampden I'll never know). Offstage, out of Waters' purview, Bowater was always one step away from falling victim to the frontlines of Baltimore's decaying urban landscape, putting herself in dangerous situations with drunks and drug addicts, sexual predators and AIDS victims. If it wasn't the people around here, it was her own addictions, especially her alcoholism, that would toss her into a tailspin. Through those hard times though, she was also was able to raise, or at least not particularly fuck up, an apparently well adjusted daughter who eventually found peace with her past.
Waters treats these revelations on this early Muse with an appropriate balance, sympathizing with the fleshed out picture put before him, while also continuing to honor the imagery that initially the auteur asa younger man. Its A Hipster Looks at 60.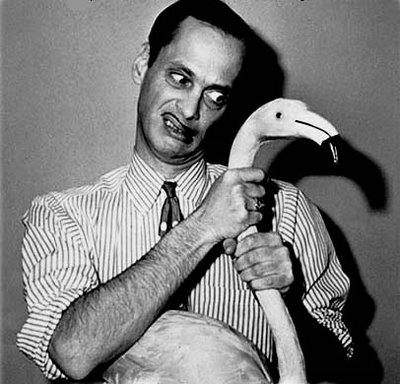 Waters continues to push into the jumbled gray zones that divide heroes and their admirers. Sometimes, breeching that gap only rubs off the high gloss on the image Waters crafted in his head. His affection for Mathis is genuine, but the opening essay "Johnny and me" does a better job fleshing out Waters more than it does the former teenage heartthrob. Ditto an interview with Little Richard, repurposed from a late-80s article in Playboy:, that offers a hint of insight, but leaves readers more depressed than anything (though, its nice to know that Richard has since found solace near my friend Mike Simpson's home in Lynchburg, Tennessee, home of Jack Daniels).
Essays in "Role Models" also heap praise on talented pillars of fashion (Rei Kawakubo's Commes De Garcon will be a New York must-stop), literature (can't imagine ever reading these books, all obscure fiction pieces, but you can understand why Waters found solace in them) and modern art ("Roommates", which runs through Waters' own personal collection of extreme modern artists, is arguably the second best essay in the collection). I also appreciate, on a personal level, his tour of Baltimore's lowliest bars, and will have to figure out where Morgan's in Hampden used to be.
The most fascinating character that emerges from the collection, is, drum roll please, Waters himself. This is as it should be, since he's the reason Loyal Residents of Charm City picked up "Role Models" in the first place.
Waters is Baltimore's Andy Warhol. Only, he's a vastly superior version, having built his own playfully filthy public image while demonstrating, specifically in his writing and stage shows (see "This Filthy World" if you haven't yet), a heartening degree of sympathy for the landscape around him, a trait Warhol tended to lack. Waters always gives those he meets the benefit of the doubt, right up until they prove they don't deserve it. No one is shunned, not the deer meat drug dealer or the homeless gutter-punk or the homeless former gay porno kings or the downtrodden bar maidens that keep Charm City frosty, until they've proven they need to be thrown out, bouncer style, from his circle. Waters gives you your due. Baltimoreans know this, which is why he can travel into many of our darkest corners and rest easy.
While we natives don't like to share our heroes, it is also necessary to point out that he is also their Icon as well, that army of punked-out art school ringmasters, liberal arts layabouts, and transgender scenesters that, over the last decade or so, have descended on Baltimore, finding in its broken streets a ready canvas for their creativity. Hampden's Renaissance doesn't emerge to its fullest expression without John Water's "Pecker." Station North doesn't breathe without Waters' movies. He was the first pioneer, the Daniel Boone of Baltimore's avante garde. He is The Hipster To Come before All Other Hipsters.
So, yes, we'll have to wait for that first inaugural WatersFest, or whatever we decide to call it, for at least a few more years. That isn't such a bad predicament, if we get more Waters, be it through film or stage show or in book like in "Role Models," between then and his entrance to the great beyond.